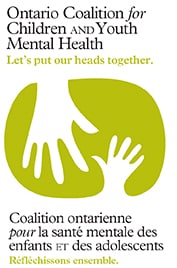 The Ontario Coalition for Children and Youth Mental Health continues its collaborative efforts in bringing together, at a common table, the many voices that speak for the mental health and well-being of children and youth across the diverse linguistic and cultural context of Ontario. The Coalition is a multi-sectoral network of provincial partners in education, mental health and addictions, health, public health, justice, community and social services, and research along with parents/caregivers and young people. Its members share a passion to ensure the best mental health and well-being for Ontario's children, young people and their families. 
The Coalition strives to bring together expert voices along with the latest knowledge to support the government's work towards a comprehensive mental health and addictions strategy to support mental health and wellness across the lifespan of each Ontarian.
The Coalition recognizes that no one group or organization can do this work alone. It is a shared responsibility that will take a concerted and collaborative effort to bring this pervasive health issue out of the shadows.
Let's put our heads together: Coordinating our efforts to improve mental health and well-being for Ontario's children and youth 
In November 2022, the Coalition released Let's put our heads together, compiling the latest evidence in one document to help inform collective advocacy efforts. The position paper summarizes the current research and identifies goals with rationale for action, along with evidence-informed recommendations. The recommendations are aligned with Right time, right care: Strengthening Ontario's mental health and addictions system of care for children and young people (School and Community System of Care Collaborative, 2022).
Summit on Children & Youth Mental Health
Next Event Date is TBD
Toronto
Click here for more information on the Summit on Children and Youth Mental Health
13 Reasons Why – Frequently Asked Questions
Mental health professionals and organizations involved in suicide prevention are concerned about aspects of the new Netflix series 13 Reasons Why. This series depicts events leading to death by suicide of a young fictional character, and covers other troubling issues like bullying, violence, and sexual assault.  While the series may inspire helpful dialogue about these issues, it also has potential for harm for those who may be struggling with a mental health problem and/or suicidal ideation.
To help those trying to understand the concerns and school boards looking to respond to comments and concerns from their communities, School Mental Health Assist has created a comprehensive FAQ. The FAQ is also available in French.
The Coalition's Submission to the Ministry of Education's From Great to Excellent Consultation
In November 2013, the Coalition responded to a call for submissions on the Government of Ontario's From Great to Excellent: The Next Phase in Ontario's Education Strategy consultation. To read the response in full, please click here.
Supporting Documents
Brochure – English
Brochure – French
Charter of Rights – English
Charter of Rights – French
Fact Sheet – English
Fact Sheet – French
Improving Mental Health Supports for Kids and Families
Open Minds, Healthy Minds
Coalition for Children and Youth Mental Health Strategy slide deck