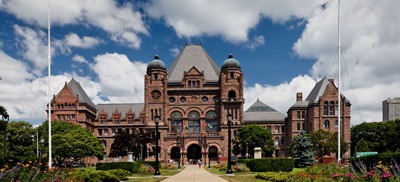 This update includes news about:
Recent Legislative Business – Week of October 2
OPSBA Advocacy Actions and Activities – Bill 98, The Better Schools and Outcomes Act, 2023 – New Regulatory Posting
Ministry of Education Communications
Canadian School Boards Association (CSBA) – Advocacy Week in Ottawa
Ontario Ombudsman 2022-2023 Annual Report
Other News and Information
Recent Legislative Business
Members of Provincial Parliament were at Queen's Park this week but will be in their constituencies next week. The Legislative Assembly of Ontario will resume on October 16, 2023 and legislation reversing the changes to the Greenbelt is expected to be introduced.
Bill 123, Erin's Law (Child Sexual Abuse Prevention and Reporting), 2023
This Private Members' Bill was introduced on June 6, 2023, by PC MPP Nolan Quinn. If passed, it would require school boards to create a policy for talking to students about child sexual abuse prevention.
Status: Referred to the Standing Committee on Social Policy
OPSBA Advocacy Actions and Activities
Submission to the OHRC's Anti-Black Racism in Education Consultation
OPSBA was pleased to publish the OPSBA Black Trustees' Caucus submission to the Ontario Human Rights Commission's Consultation on Anti-Black Racism in Education earlier this week. This submission outlines OPSBA's Black Trustees' Caucus vision for Black student success. While the work to ensure Black students are properly supported and prepared for a bright future has only just begun, local school boards are already leading the way and making positive impacts across Ontario. Ontario has an opportunity to stand out among its peers as a centre of excellence for Black student achievement. Much transformation, change and strong focus has already taken place, but it is not enough. Support for Black students and communities must be invested in and expanded through government and partner initiatives.
Student Nutrition
On October 5, OPSBA First Vice-President Kathleen Woodcock joined Ministers Michael Parsa and Stephen Lecce in Mississauga as they announced a $5 million investment in the Student Nutrition Program and the First Nations Student Nutrition Program. These programs provide more than 600,000 school-aged children and youth with healthy meals and snacks throughout the school year to ensure they are well-nourished and ready to learn. This funding brings the total provincial funding for this year to $38 million. The programs will deliver almost 90 million nutritious meals and snacks to students.
The Student Nutrition Program is delivered in partnership with local agencies, school boards, and community partner organizations, and the First Nations Student Nutrition Program is delivered through a First Nations-led process. Both programs provide breakfast, snacks or lunch programs to school-aged children and play a vital role in supporting students' nutritional needs and promoting positive academic outcomes. OPSBA President Cathy Abraham provided the following quote for the government's news release: "When children and youth come to school hungry, it's impossible for them to focus on learning. This is an unfortunate reality for far too many students in our schools. The funding announced today is a great step towards addressing this challenge and ensuring that all of our students have stigma-free access to nutritious foods. Students need to be fully prepared to face their learning day without worrying about where their next meal might come from. Simply put, children who are not hungry are more prepared to learn and participate in our classrooms and extra-curricular activities."
REMINDER: Local Government Week – October 16-20, 2023
Earlier this week, OPSBA published its Local Government Week (LGW) materials with members which can be found on our School Board Governance webpage. The slide deck and one-page overview has been created to allow for local board modifications. We encourage you to be inspired about what you do locally and how it impacts your students and community. In addition to classroom visits, we encourage you to connect and share information with your municipal counterparts. Centrally, OPSBA will be promoting LGW via social media and using #LocalGovWeek. Member board communications staff were also provided with resources to promote locally.
Good Governance Workshops: OPSBA Leaders Academy  
Registration is now open for the next workshop entitled, Meaningful Engagement: How to hear from the voices that matter on the issues that are important. This will again be held virtually over the lunch hour on October 18, 2023. To register and secure your spot, visit OPSBA Leaders Academy.
The regulatory posting for Director of Education Performance Appraisal is now available on Ontario's Regulatory Registry. See the memo from the Deputy Minister. OPSBA's Policy Development Work Group (PDWG) is leading the Association's response on this and has already engaged in a ministry-led consultation. The due date for feedback is November 2, 2023. See an OPSBA overview of the legislative amendments included in Bill 98 and the status for each item. This chart will continue to be updated.
Ministry of Education Communications
October 4, 2023 memo re Cyber Awareness Resources
Canadian School Boards Association (CSBA) – Advocacy Week in Ottawa
From October 3 to 5, OPSBA President Cathy Abraham and Executive Director Stephanie Donaldson joined Canadian School Boards Association (CSBA) counterparts in Ottawa to discuss public education in Canada. OPSBA is a long-time member of the CSBA. The CSBA board of directors held meetings with more than 20 Members of Parliament, Senators, and senior staff to identify opportunities to better serve students in Canada. While public education is within the provincial government mandate, education leaders understand the important connection with federal leaders and ministries. Issues discussed included advocacy for a National School Food Program and Policy, Indigenous education, health, mental health and addictions, Official Languages, community safety, immigration, and many more directly impacting students and school communities.
See the CSBA news release, CSBA Members and Federal Leaders Meet in Ottawa.
Ontario Ombudsman 2022-2023 Annual Report
Ontario Ombudsman Paul Dubé has released his annual report which includes information about school boards. The section on Education begins on page 58 and a school board complaint listing can be found on page 90.  No information is given to indicate how many complaints are new and unique. The Ombudsman's Office oversees and investigates more than 1,000 provincial government and broader public sector bodies, such as provincial ministries, Crown corporations, tribunals, agencies, boards and commissions, and municipalities, universities, and school boards.
Other News Releases and Information