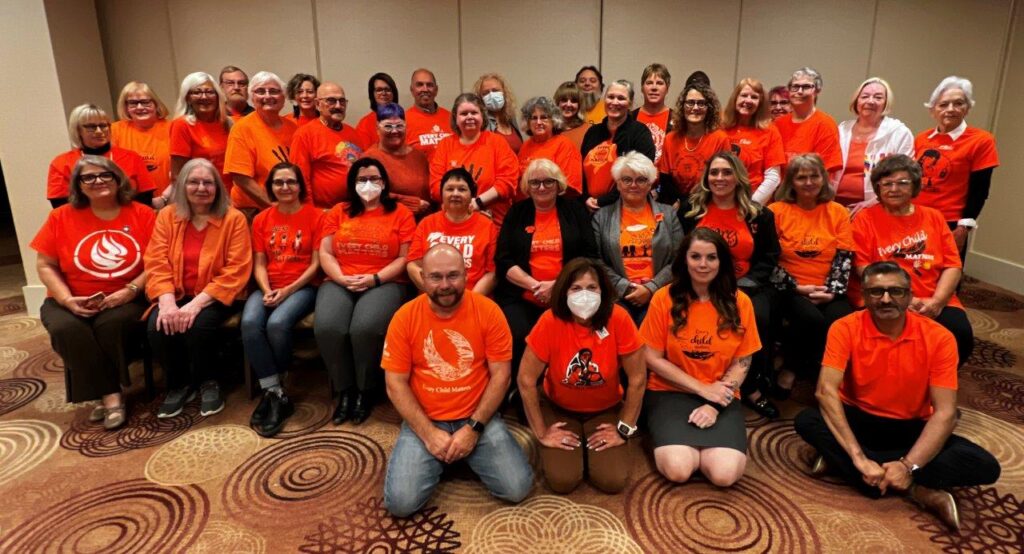 The Ontario Public School Boards' Association (OPSBA) Board of Directors held a meeting in Toronto on September 30 and October 1, 2022. To honour and commemorate the National Day for Truth and Reconciliation, Indigenous Trustees' Council of OPSBA Chair Elaine Johnston delivered a reflection at the beginning of the meeting, which was followed by a viewing of the OESC professional development module A Journey Towards Truth and Reconciliation.
Education policy and program issues that were discussed in public session at the meeting are summarized below:
The Ontario Legislature
The Legislative Assembly of Ontario reconvened on August 8, for a five-week summer session. Members of Provincial Parliament re-elected PC MPP Ted Arnott (Wellington—Halton Hills) as Speaker of the House and the Throne Speech was delivered by Lieutenant-Governor Elizabeth Dowdeswell. It included a reference of the government spending $225 million over two years on education in the form of direct payments to parents.
Current Party Standings – 124 seats:
Progressive Conservative Party of Ontario – 83
New Democratic Party of Ontario – 31
Ontario Liberal Party – 8
Green Party of Ontario – 1
Independent – 1
OPSBA sent letters of congratulations and has met (virtually) with the new Ministry of Education Parliamentary Assistants (PAs); MPP Patrice Barnes and MPP Matthew Rae. Both PAs will be attending the Joint Policy Development and Education Program Work Group meeting in November. Minister of Education Stephen Lecce attended the Indigenous Trustees' Council Meeting in August and met with executive members of OSTA-AECO in September.
The House is now adjourned after until October 25, the day after the Municipal Council and School Board elections are held.
Electronic Meetings
Following concerns raised by OPSBA member boards, OPSBA has requested to Minister Lecce that the Ministry of Education extend the current provisions in Ontario Regulation 463/97: Electronic Meetings and Meeting Attendance to allow school boards to continue meeting virtually for the duration of the 2022-23 school year.
Read the full OPSBA letter
Further Legislative Updates are available on the OPSBA Connects blog. All OPSBA submissions to the government are available on the OPSBA website.
Municipal Council and School Board Elections – October 24, 2022
Nomination information and candidate details are available on the revised and  updated school board elections website. All candidates are encouraged to submit their profiles (name, school board and ward) to TrusteeCandidateInfo@oesc-cseo.org. Candidates can also include a photo, a brief biography, social media handles, email addresses and website URLs with their profile.
The next term of office (2022-2026) begins for publicly elected school board trustees on November 15, 2022. A newly elected trustee does not officially take office until the board's inaugural/organizational meeting (within seven days of November 15, 2022) and a trustee swears a declaration as prescribed in the Education Act.
OPSBA has been working with the OESC on an updated 2022 Good Governance Guide. This is a valued resource for all trustees and an online version is anticipated for the beginning of the new term, with printed copies available at the Public Education Symposium in January 2023.
From April 25 to May 2, and then – following the Provincial Election – from late June until August 19, OPSBA ran a social media campaign targeted at increasing awareness of the nomination period for school board trustees. This "Phase I" of the campaign focused on both increasing awareness of the nomination period as well as encouraging increased diversity of candidates. "Phase II" of the campaign was recently launched and seeks to raise awareness of the elections and encourage people to vote.
For more information, visit Vote for Your Local Trustee.
Zoom Discussion Panel
OPSBA is hosting a discussion panel on Zoom entitled: "Diverse Voice, Diverse Leadership and Equity in Public Office and Education"  on October 6, from 6:30 to 8 p.m. The panel will be moderated by Caroline Alphonse from the Globe & Mail, and will feature:
Peggy Nash – former MP for the riding of Parkdale – High Park
Suzanne Nurse – former Trustee for the Peel District School Board
Kristin Murray – Mayor of the City of Timmins
Steve Anderson – Deputy Mayor of the Town of Shelburne
Government Relations, Public Affairs, and Communications
An overview of recent media activity and OPSBA's past, current and future advocacy and awareness planning was provided. To see the Association's appearances in the media, visit can OPSBA in the Media.
National Day for Truth and Reconciliation
September 30, 2022, marked the second National Day for Truth and Reconciliation. To properly commemorate and honour this day and the associated week of activities before the 30th, OPSBA coordinated videos of reflection from Indigenous Trustees' Council Chair Elaine Johnston, President Cathy Abraham and Algoma DSB Indigenous Student Trustee Nevaeh Pine.
OPSBA Advocacy Day / Nanos Polling
The purpose of OPSBA's Advocacy Day meetings are to re-introduce OPSBA and its priorities to the government and the opposition parties. It is also an opportunity to increase and elevate the overall awareness of the Association and its advocacy efforts. The Association has secured the date of November 28, 2022, for an Advocacy Day at Queen's Park. The day will be similar to the event held in 2019 that saw OPSBA Board of Directors and senior staff attend Question Period, meet with local MPPs and attend an evening reception.
First Day of School
OPSBA celebrated the return to in-person classes on September 6 and 7 by asking social media followers to share first-day-of-school photos of themselves or their children using the hashtag #OntEdFirstDay. As part of back-to-school media outreach, OPSBA President Cathy Abraham appeared in an Ottawa Citizen story on September 6 on the role of trustee as well.
See #OntEdFirstDay photos on Twitter.
Labour Relations
Updates were provided in private session on recent developments related to labour relations.
Indigenous Education
The Indigenous Trustees' Council (ITC) of OPSBA met in late August to discuss ongoing issues and items for advocacy. Minister Lecce and several ministry staff attended the meeting. It was emphasized that the ITC is not only concerned about the science curriculum. Other issues identified for the Minister/ministry to address included:
language revitalization
advancing reconciliation as per the recommendations of the Truth and Reconciliation Commission
residential schools and intergenerational trauma
elevating the voice of ITC members
collaboration between the ITC and the ministry on pilot projects and joint news releases or statements
Indigenous course requirements for graduation
The importance of explaining and promoting the role of Indigenous trustees was identified and there was discussion about how OPSBA and the Ministry of Education should make more opportunities to engage Indigenous student trustees, including funding for them to attend meetings. It was noted that there are many ways of integrating Indigenous culture in curriculum and some frustration was expressed that the ministry focus appears to be on western ways of learning rather than on approaching learning from an Indigenous perspective.
Education Finance
A summary of important B and SB memos that have been released since the last Board of Directors meeting in February was provided. B and SB memoranda for 2022-23 and prior years can be accessed on the ministry website.
There is significant concern that the Auditor General's Office is recommending that the Ontario School Boards' Insurance Exchange (OSBIE) be consolidated into school board financial statements on its latest value for money audit. The theory is that because the only customers of OSBIE are school boards, school boards effectively have control of the exchange and therefore should be consolidating it. There are a number of groups currently working on this, lots of options have been floated and we are hoping for a consistent approach that all can support.
Student transportation also remains as an ongoing concern from a financial and operational perspective.
Ontario Coalition on Children and Youth Mental Health
OPSBA was the founding member of the multisectoral Coalition, which is now in its 13th year of operation. Given the significant impact of the pandemic on the mental health and well-being of children and youth, the Coalition is using its expertise and evidence-based research to create a position paper including recommendations. This position paper builds on the key messaging in OPSBA's Transitioning from the Covid-19 School Experience document and will be used to advocate and influence government policy and future supports for mental health and well-being K-postsecondary. The position paper highlights the social determinants of health and the need for inter-ministerial collaboration, integration and coordination of services, funding and supports.
Education Partner Discussion Table
The Education Partner Discussion Table will return to meeting monthly starting in October. The focus is to build a roadmap of what schools should look like in the next five to 10 years. This table consists of all school board leadership groups, including all union partners and Coalition representatives.
FSL Labour Market Knowledge Mobilization
The primary objectives of the FSL labour market partnership ministry agreement are to:
continue to mobilize the key findings of the Labour Market Partnership project
build on innovative practices by expanding the number of projects provincially
document through case studies school board experience in implementing a constellation of higher yield strategies based on findings of the Partnership work
further support the implementation of the SHSM Non-profit in Education stream through research and promotion.
Among other activities, OPSBA is currently looking at presenting the culmination of research findings and higher yield strategies at key Ontario conferences in this school year.
OPSBA Website Repository of Exemplary Practices
The Association's Education Program Work Group continues to annually gather school board exemplary practices. This year the exemplary strategies/programs/practices are in support of equity, diversity, inclusion and human rights in school boards. OPSBA will still accept additional submissions to this repository.
Equity, Diversity and Inclusion
Action planning has continued through the summer months guided by our 2021-22 key achievements/commitments and detailed in the Inclusive, Diverse, Equitable, Accessible, Anti-Racist, Anti-Oppressive Systems (IDEAAAS) Integration Workplan and Framework shared in the Annual General Report 2022.
Integrated OPSBA Education Strategy
Both internal and external discussions related to professional development planning and EDI leadership capacity building are ongoing. This is to better coordinate staff and trustee professional development, particularly in the area of EDI but also including orientation and governance.
OPSBA Strategic Planning
The Board of Directors approved a plan, aligned with the policy, for the upcoming OPSBA strategic planning process.  The plan includes: data collection, regular and ongoing communication with trustees, and the collection of input to inform OPSBA's multi-year strategic priorities for 2023-2027.
OPSBA Policies
The Board of Directors approved the following OPSBA Policies:
OPSBA Trustee Expenses
Purchasing and Procurement
Executive Director Performance Review
These documents will be posted on the Policies, Procedures and Supporting Documents page of the OPSBA website.
For more information on any of the above reports, please contact OPSBA at inquiry@opsba.org or your school board's OPSBA Board of Director member.