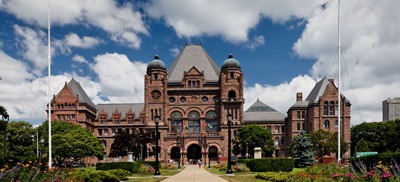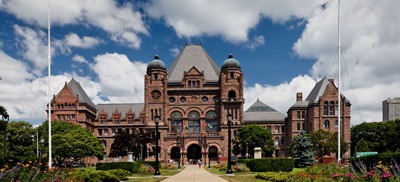 The Legislative Assembly of Ontario will reconvene for its fall session on Monday, September 11, 2017. It will adjourn after Question Period on Monday, September 18 and all day Tuesday, September 19 to allow party members to attend this year's annual International Plowing Match and Rural Expo in Walton, Ontario. The following is an update on recent activity.
Current/Upcoming Legislation
Bill 142, Construction Lien Amendment Act, 2017
This legislation was introduced on May 31, 2017, by Attorney General Yasir Naqvi. The proposed bill addresses three topics that were considered part of the mandate of the Construction Lien Act review and included:
Modernizing the lien and holdback process;
Introducing rules around prompt payment; and
Creating an adjudicative process for resolving disputes.
OPSBA and the other school board/trustee associations all share a consultant working on this project on our behalf. The bill remains at First Reading.
Bill 148, Fair Workplaces, Better Jobs Act, 2017
This legislation was introduced on June 1, 2017, by Minister of Labour Kevin Daniel. It builds upon the final Changing Workplaces Review – a 420-page report containing 173 recommendations for how the province can improve its workplace regulations. It recommends the government legislate that all part-time, contract and seasonal employees be paid equally to comparable full-time employees at the same company. It recommends increasing vacation pay from two weeks to three weeks after an employee has worked for the same employer for more than five years. The bill was referred to the Standing Committee on Finance and Economic Affairs, which was given permission from the House to meet over the summer to study the bill.
The Committee held public meetings throughout the month of July. OPSBA reviewed the proposed legislation and sought legal counsel for education sector impacts and provided a submission to the Committee on July 20, 2017. OPSBA will continue to follow this legislation when the House resumes in September.
Bill C-45, Cannabis Act
On April 13, 2017, the Federal Government (Minister of Justice and Attorney General of Canada) introduced Bill C-45, Cannabis Act (An Act respecting cannabis and to amend the Controlled Drugs and Substances Act, the Criminal Code and other Acts). This proposed legislation will legalize and regulate cannabis across the country by July 2018. In Ontario, the Legalization of Cannabis Secretariat (LCS) has been established under the Ministry of the Attorney General and has begun to engage stakeholders on topics related to the Federal government's planned legalization (such as health regulations, youth prevention). This ministry will coordinate stakeholder feedback and introduce Ontario specific legislation.
On August 2, 2017, OPSBA staff attended an Education Stakeholder Roundtable meeting regarding Ontario's Approach to Federal Cannabis Legalization. OPSBA has invited representatives from the Ministry of Education's Healthy Schools Branch to present to trustees at the September joint meeting of the Policy Development and Education Program Work Teams. In the fall, the Ministry of Education will be engaging with OPSBA, along with the other three trustee associations, to discuss more education-related issues. Also of note, this is an issue being discussed by the Canadian School Boards Association (CSBA).
OPSBA's Policy Development and Education Program Work Teams invited representatives from the Ministry of Education's Healthy Schools Branch to give an overview of what has taken place federally and what is to happen next provincially, including the timing of legislation introduction and sector engagement. There will be an opportunity for OPSBA to participle in a fall consultation to discuss such issues as changes to board policies, procedures, updating curriculum (age/grade information), suspensions and expulsions, input on public awareness and youth/young adult prevention, etc. On September 8, the government announced framework details, including the proposed minimum wage and that the LCBO will oversee the legal retail of cannabis through standalone stores. See the news release included below under Recent Announcements.
Far North Electoral Boundaries Commission
On August 8, 2017, Attorney General Yasir Naqvi announced he will introduce legislation this fall to create two new Northern Ontario ridings ahead of the next election. This is in response to the final report from the Far North Electoral Boundaries Commission, which recommended improving representation in the province's two largest ridings: Kenora–Rainy River and Timmins—James Bay. The new ridings, Kiiwetinoong and Mushkegowuk, will represent large Indigenous and Francophone populations. Kiiwetinoong and Mushkegowuk are in addition to the 15 new ridings that were legislated last year and will bring the total number of ridings in the June 2018 election to 124, up from the current 107.
Local Government Week – 2017
This year, Local Government Week takes place October 15-21, 2017. OPSBA will be reviewing and updating resources for trustees to use in their meetings with Grade 5 Social Studies and Grade 10 Civics students. We encourage all trustees to follow their board protocols in contacting local principals to arrange these classroom visits, which are designed to raise civic awareness and promote the role of trustees among Ontario students. Final resources will be provided towards the end of September/early October. Please note that the materials will be designed in a manner that allows local board information to be added.
Recent Announcements
There have been several back to school announcements. Please see below for a re-cap of ministry news releases posted late August and early September.
Ontario Releases Safe and Sensible Framework To Manage Federal Legalization of Cannabis, Sept. 8, 2018
Ontario Boosting Opportunities for Students' Long-Term Success, Sept. 7, 2017
Updated Curriculum, New Report Cards Coming to Ontario Schools, Sept. 6, 2017
Improving Well-Being for Students Across Ontario, Sept. 5, 2017
New and Improved Schools Opening Across Ontario this Fall, Aug. 31, 2017
Ontario Appoints New Advisors to Guide Transformation in Education System, Bulletin, Aug. 25, 2017