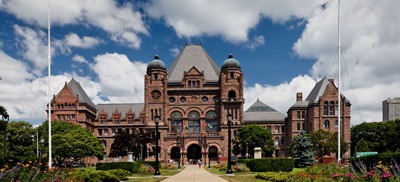 The Legislative Assembly of Ontario has adjourned and will resume for one day only, in the afternoon on Wednesday, September 13, in order to pay tribute to Queen Elizabeth II. When news of the monarch's passing broke, flags at the legislature were immediately lowered to half-mast and will continue to fly that way until the late monarch's funeral which is slated for September 18. The Queen's portrait outside the main doors of the legislative chamber was also set to be draped in black, pursuant to protocol, while black wreaths were placed on the doors of the Lieutenant Governor's suite and black ribbons added to the flags outside the Premier's office. A book of condolences has been erected in the legislature's main atrium, with the public invited to sign it. Queen's Park will not have its name altered, as it is named for Queen Victoria. Other things will change, however, such as the name of the official Opposition becoming "His Majesty's Loyal Opposition." The Queen's Printer for Ontario will also likely be renamed.
It is expected that the House will be adjourned after the tribute on Wednesday until after the Municipal Council and School Board elections are held. Many MPPs will be seen at the upcoming International Plowing Match and Rural Expo 2022, which is being held in North Grenville from September 20 to 24, 2022.
First Day/Week of School
Schools throughout Ontario have opened their doors to students. OPSBA celebrated the return to in-person classes on Tuesday and Wednesday by asking social media followers to share first-day-of-school photos of themselves or their children using the hashtag #OntEdFirstDay. As part of back-to-school media outreach, OPSBA President Cathy Abraham appeared in an Ottawa Citizen story on September 6 on the role of trustee as well. See #OntEdFirstDay photos on Twitter.
The Minister of Education also issued a statement, Minister of Education Welcomes Students Back to a Normal, Stable and Enjoyable School Year.
On September 2, a memo, Online Learning Implementation Update, was issued.
New and Current Legislation
Bill 3, Strong Mayors, Building Homes Act, 2022
This legislation was introduced by Municipal Affairs and Housing Minister Steve Clark on August 10, 2022. Among the suggested changes, "the bill and the proposed regulations would give new powers to the mayors of Toronto and Ottawa."
Current Status: Royal Assent (September 8, 2022)
Bill 2, Plan to Build Act (Budget Measures), 2022
This legislation was introduced by Finance Minister Peter Bethlenfalvy on August 9, 2022. It contains six schedules or changes to various Acts to implement the government's budget.
Current Status: Royal Assent (September 8, 2022)
Municipal and School Board Elections Website
Nomination information and candidate details are available on the revised and updated school board elections website. All candidates are encouraged to submit their profiles (name, school board and ward) to TrusteeCandidateInfo@oesc-cseo.org. Candidates can also include a photo, a brief biography, social media handles, email addresses and website URLs with their profile. OPSBA will be releasing an online campaign aimed at encouraging citizens to vote in the October 24 elections in the coming days.
Other News Releases and Information