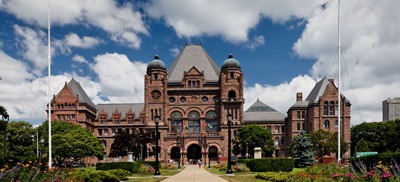 MPPs returned to Queen's Park on October 19, 2020, after a constituency week.
COVID-19 Update
As of October 15, 1,145 total COVID-19 cases had been reported in publicly funded schools, in 451 individual schools, with 686 of those occurring in the last 14 days. Of the total cases, 635 are students, 184 are staff, and 326 are not identified. Five schools, or 0.1% of the 4,828 publicly funded schools in the province, were closed.
On October 14, the government announced that 100 new contact tracers have been hired, with up to 500 more expected by mid-November. The government says there are currently more than 2,750 case and contact management staff active across all public health units, tracing and managing COVID-19 cases ― up from approximately 1,500 staff in the spring. These 600 new recruits and 600 personnel from Statistics Canada will bring the total number of case and contact management staff to nearly 4,000. On October 16, the government announced that beginning the morning of October 19, York Region will join Ottawa, Peel and Toronto public health regions in a modified Stage 2.
On October 14, the Deputy Minister sent a memo entitled, Readiness to Move to Remote Learning, that asks boards to complete a checklist by October 23, 2020. Also please note that the weekly calls between the Minister and board chairs will continue on Mondays, as will the weekly Thursday calls between the Deputy Minister and Directors of Education, both until December 14, 2020.
Ontario Regulation 274/12: Hiring Practices
On October 15, Minister of Education Stephen Lecce issued a statement announcing the revocation of Ontario Regulation 274/12: Hiring Practices on October 29, 2020. Beginning that day, school boards will be asked to use an interim policy until a Policy/Program Memorandum (PPM) is issued in November. Boards will then be required to "develop and post their own teacher hiring policies that align with the PPM and respect existing collective agreements." Attached is the memo and the interim policy shared by the Deputy Minister earlier today.
OPSBA has been advocating for the repeal of this regulation, which favours seniority as the most important factor in teacher hiring, since its introduction in September 2012.
Local Government Week – October 19-23, 2020 / #LocalGovWeek
OPSBA will once again be promoting Local Government Week (LGW), but due to the current pandemic situation, we are not encouraging trustees to physically visit schools. Trustees should follow their board protocols for setting up any possible virtual visits with Grade 5 and Grade 10 Civics and Careers classes. This advocacy week aims to increase youth and public awareness about the important role local government plays in our communities. Beginning Monday, OPSBA will be conducting a social media campaign to promote LGW that highlights the different types of trustees, the long advocacy history of trustees and the importance of their work. Updated resources are available on the OPSBA website. Please tweet using the hashtag #LocalGovWeek
Ontario Education Services Corporation's (OESC's) Trustee Professional Development Program
Effective governance is always important. It is even more so now as school boards face unprecedented challenges resulting from the COVID-19 pandemic. The Trustee Professional Development Program focuses on fundamentals of good governance and offers learning and tools to support governance skills at this critical time. The following are a few suggested modules that may be helpful:
For more information and to access all 21 modules and receive your Certificate of Completion, visit https://modules.ontarioschooltrustees.org/. 
Ministry of Education – Financial Memos
Other News Releases and Information