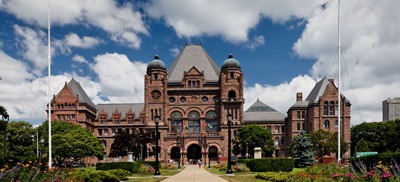 Members of Provincial Parliament have a constituency week from November 7 to 11 and return to Queen's Park on November 14, 2022. On that day, Finance Minister Peter Bethlenfalvy will present the government's fall economic statement and then the government will have four sitting weeks before the winter holidays.
This legislation was introduced on October 31 by the Minister of Education, Stephen Lecce. The bill addresses the labour disputes involving school board employees represented by the Canadian Union of Public Employees (CUPE) and provides for new collective agreements beginning on the date the Act receives Royal Assent and ending on August 31, 2026. The bill was time allocated and skipped the committee stage. Immediately following the proclamation of the bill, the government filed a submission with the Ontario Labour Relations Board (OLRB) in response to CUPE's strike action. The hearing began Thursday night November 3rd and continued all weekend. As of the morning of November 7, the OLRB's decision has not been released.
Current Status: Royal Assent (November 3, 2022)
See the government's news release, Ontario Introduces the Keeping Students in Class Act
See the November 3 memo from the Ministry of Education, Labour Disruptions – Contingency Planning
This legislation was introduced on October 27 by the Minister of Colleges and Universities, Jill Dunlop. The bill aims to protect college and university students from sexual misconduct by faculty members. It would require publicly funded post-secondary schools to make sexual abuse of a student a cause for dismissal and forbid the use of non-disclosure agreements that may prevent a past incident from being disclosed if the fired faculty member seeks a job elsewhere.
Current Status: Second Reading
This legislation was introduced on October 25 by the Minister of Municipal Affairs and Housing, Steve Clark. The bill proposes to reduce the costs incurred by builders from municipal fees and taxes and make it much easier to build 1.5 million additional homes over the next 10 years.
Current Status: Referred to the Standing Committee on Heritage, Infrastructure and Cultural Policy
Municipal Council and School Board Elections – Results
Final results have been captured following the election with information found on the OESC Municipal and School Board Elections website.  Among OPSBA member boards, there are currently five vacant seats in the following boards: District School Board Ontario North East (1), Keewatin-Patricia District School Board (2), and Superior-Greenstone District School Board (2). Of the total 317 elected trustee positions in the 2022 election, 152 are new individuals and 160 trustees are returning. In 2018, there were 140 new trustees and 176 returning trustees.
The OESC has compiled 2022 data for all four school board/trustee associations and it is available on the Ontario Municipal & School Board Elections Website (ontarioschooltrustees.org).
For an overview of OPSBA information, visit: OPSBA 2022 Preliminary Post-Election Data.
New Edition of "Copyright Matters!" released
A new edition of an important copyright resource for teachers has just been released by the Copyright Consortium of the Council of Ministers of Education, Canada (CMEC), the Canadian Teachers' Federation (CTF/FCE), and the Canadian School Boards Association (CSBA). Copyright Matters! provides practical information for Canadian teachers on their rights and responsibilities regarding the use of copyright-protected materials in educational institutions. The 5th edition includes new information on copyright and online learning, and is now available as an online resource and for download at www.copyrightmatters.ca. In a news release, Alan Campbell, President of CSBA (of which OPSBA is a member) said, "School boards are pleased to partner with provincial and territorial ministries and teachers' federations to offer this new edition of Copyright Matters!." He copntinued, "While it is primarily for teachers, we have found that students, families, and education administrators also find the publication useful. It has proven indispensable for those wishing to know copyright law and how it applies in an education setting."
Founded in 1967, CMEC is the collective voice of Canada's ministers of education. It provides leadership in education at the pan-Canadian and international levels and supports provincial and territorial governments in the exercise of their exclusive jurisdiction over education. Established in 1999, the CMEC Copyright Consortium is composed of the ministers of education of all provinces and territories, with the exception of Quebec. The consortium works to advance copyright policies at the federal government level and to provide support to educators in their use of copyright-protected materials.
For more information on CMEC and copyright, visit Council of Ministers of Education Canada.
Other News Releases and Information