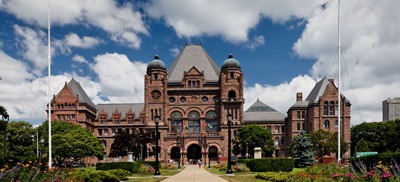 The Legislative Assembly of Ontario is adjourned while MPPs are on a constituency week from March 14 to 18, 2022. They return to Queen's Park on March 21, 2022 for four back-to-back sitting weeks that run until the Easter holiday and then another constituency week break. The last day this parliament can sit until is May 4, 2022.
New and Recent Legislation
Bill 88, Working for Workers Act, 2022
This proposed legislation was introduced on February 28, 2022, by Minister of Labour, Training and Skills Development Monte McNaughton. It contains five Schedules or changes to various Acts, including Schedule 2, Employment Standards Act, 2000. The bill did not have any public hearings and proceeded directly to clausal review on March 9, 2022. The bill is expected to return to the House after March Break for Third Reading.
Current Status: Ordered for Second Reading on March 10, 2022.
Bill 86, Our London Family Act (Working Together to Combat Islamophobia and Hatred), 2022
This proposed legislation was introduced on February 23, 2022, by the four London NDP MPPs: Faisal Hassan, Teresa J. Armstrong, Terence Kernaghan, and Peggy Sattler. The proposed bill includes nine Schedules including changes to the Education Act. The bill was drafted in collaboration with the National Council of Canadian Muslims, and the Liberals and Greens have already pledged to support it.
Current Status: Referred to the Standing Committee on Justice Policy on March 3, 2022.
Bill 67, Racial Equity in the Education System Act, 2021
This proposed legislation was originally introduced on December 2, 2021, by NDP MPP Laura Mae Lindo, who is the party's Anti-Racism Critic. This would be a new "Act to amend various Acts with respect to racial equity", including the Education Act. This past week it passed other legislative stages.
Current Status: Referred to the Standing Committee on Social Policy on March 3, 2022.
Bill 10, Stopping Harassment and Abuse by Local Leaders Act, 2021
Liberal MPP Stephen Blais re-tabled this bill on October 6, 2021. It would insist the code of conduct for municipal councillors and members of local boards include a requirement for those councillors and members to comply with workplace violence and harassment policies. Note: it does not concern school board trustees.
Current Status: Referred to the Standing Committee on Social Policy on March 9, 2022.
2022 Municipal and School Board Elections
OPSBA staff have prepared, with legal counsel, a school board checklist that includes a reminder of key dates and board considerations.
Note: This document will be updated, as required, based on trustee enquires or legislative changes.
See the checklist which is available on the OPSBA municipal elections webpage.
COVID-19 Update
The Government of Ontario launched its school closures and absenteeism webpage in January. As of March 8, one school in Ontario was closed, which is 0.02% of all schools. A summary of school-by-school student and staff absences is provided, but it is not broken down by the reason for absence. Data is current as of 2 p.m. the previous weekday.
On March 9, 2022, Chief Medical Officer of Health Dr. Kieran Moore announced that as of March 21, mask and eye protection would no longer be required in schools and other indoor congregate areas, with a goal of lifting all COVID restrictions by April 27. Masks will still be required until that date in select settings such as public transit, health care settings, long-term care homes and congregate care settings. Masks will still be provided for staff and students who choose to continue to wear them.  The Minister of Education has clarified that this is a public health decision and that local public health units, in consultation with the Chief Medical Officer of Health, are entrusted with making these decisions, not school boards. On March 11, the Minister issued a statement to the media.
See the CMOH's statement
See the technical media briefing
See the March 9 memo, Ministry of Education Update: Lifting of Health and Safety Measures in Schools
Effective March 14, employers' vaccination disclosure policy can be revoked, with unvaccinated staff no longer required to self-test. Additional items related to school settings include:
Cohorting and distancing will no longer be required
There are no longer any limitations for in-person graduations, proms, and assemblies
Active daily screening of students and staff will no longer be required, however it is recommended that personal screening continues on a daily basis in accordance with the updates made to the provincial screening tool
School boards are asked to accommodate requests for virtual school where possible
HEPA filter and improved ventilation systems will continue to be installed
Absenteeism will continue to be reported, with a re-evaluation on April 14
Rapid Antigen Tests will continue to be provided to symptomatic students and staff who request them
Provincial Anti-Racism Strategic Plan
The Ontario government is seeking input as it launches a review of the province's Anti-Racism Strategic Plan, which is a legislative requirement under the Anti-Racism Act, 2017. The government has said the consultations will inform programs supporting public education and awareness, community collaboration, and anti-racism initiatives like the Anti-Black Racism Strategy and the development of an Indigenous-focused strategy. Feedback can be provided on the consultation page.
Science and Technology Curriculum Update
On March 8, the government announced that it is introducing a new science technology curriculum and de-streaming the Grade 9 science course for the upcoming 2022-23 school year. Ontario's elementary science and technology curriculum was last updated in 2007 and the Grade 9 course was last updated in 2008. The revised curriculum includes required learning on real-world connections between science, technology, engineering and mathematics.
New curricular expectations will include:
Coding: Mandatory learning on coding from Grades 1 to 9, consistent with the math curriculum. For example, in Grade 3, students can learn how to program a small robot.
Connecting STEM Learning: Ontario will now have dedicated learning expectations from Grades 1 to 9 that explicitly connect science, technology, engineering and mathematics to real-world issues.
Emerging technology: Students will learn about the rise and application of advanced research, robotics and the development of artificial intelligence (AI) systems. Students can learn about the impact and application of AI in their daily lives, including facial recognition, autonomous vehicles, drones and search engines.
Skilled trades: Mandatory learning from Grades 4 to 9 on the relationship between how advancements in science and emerging technologies are enhancing the skilled trades and providing exciting career opportunities.
Food literacy: Learning related to food literacy in every grade that empowers students to make decisions that affect physical and mental health, consider local food production, and the scientific processes involved in agriculture.
The ministry is also issuing an addendum for each of the Grade 10 Academic and Applied Mathematics courses, to be implemented for the 2022-23 school year. The addenda outline additional learning expectations to support students in their learning as they transition from the new de-streamed Grade 9 Mathematics course to the current Grade 10 Mathematics courses. Additional details are provided in a March 8 memo, Winter 2022 Curriculum Updates.
Other News Releases and Information