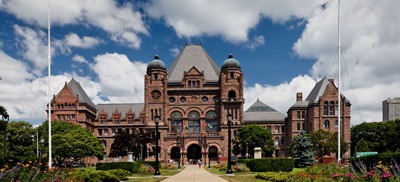 Members of Provincial Parliament returned to Queen's Park on June 23 and 24. No new legislation was introduced. June 29 to July 3 is the Canada Day constituency week break and the house reconvenes on July 6, for the start of three-day sitting weeks. The current parliamentary calendar indicates sitting dates only for July, with no dates scheduled for August, and MPPs returning on September 14, 2020.
COVID-19 Update
On June 24, the City of Toronto and Peel Region joined much of the rest of the province in moving to Stage 2 of the reopening plan. Windsor-Essex remains in Stage 1. Also that same day, the government extended the state of emergency to July 15, saying in a release that "this extension … provides Ontario with the additional time, flexibility, and the necessary tools to safely and gradually allow more places to reopen, while continuing to support frontline health care providers in the fight against COVID-19."
Minister of Education Graduation Videos
The Minister of Education released three videos for students graduating from kindergarten, grade 8 and grade 12. The videos can be accessed by clicking the links below:
OPSBA's Public Property Assessment Network Scholarship
On June 26, OPSBA announced the five winners of its Public Property Assessment Network (PPAN) Scholarship. The $1,000 scholarship is awarded to one recipient in each of OPSBA's five regions, for three school years – 2019-20, 2020-21, and 2021-22. Scholarship recipients are students of strong character, leadership skills and potential, who care deeply about their communities and furthering their own learning. Each of OPSBA's regions has fine-tuned the eligibility and selection criteria that were taken into consideration. The names of the winners can be found at the link above.
OSTA-AECO 2020-21 Leadership Election Results
The Ontario Student Trustees' Association – l'Association des élèves conseillers et conseillères de l'Ontario recently held their annual leadership elections. Kawartha Pine Ridge DSB Student Trustee Justine Mackay has been elected president of the association representing student trustees across Ontario. The Public Board Council President is Mahek Dhaliwal from the Thames Valley DSB and the Public Board Council Vice-President is Zachary Garbaty from the Grand Erie DSB. These positions take effect August 1, 2020. OPSBA will coordinate a meeting between outgoing PBC President Sarah Chun and PBC Vice-President Sam Abbott and the new executive over the summer.
Other information