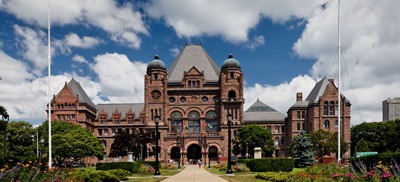 Provincial Election – Government Cabinet Announced
The province's 124 MPP-elects were sworn-in as Members of Provincial Parliament on June 23. These ceremonies were individual sessions held inside the legislature.  Doug Ford and his 30 member cabinet have officially been sworn-in by Lieutenant-Governor Elizabeth Dowdeswell outside of Queen's Park. Many MPPs returned to their previous cabinet positions, including the Minister of Education. Stephen Lecce was first elected in 2018 and is the MPP for King—Vaughan. On June 20, 2019, he became the Minister of Education and held previous positions of deputy government House Leader, Parliamentary Assistant to the Minister of Infrastructure, and Parliamentary Assistant to the Premier. The announcement did not include Parliamentary Assistant assignments, but these should be announced soon, and perhaps as early as next week.
On June 24,  Minister Lecce held a virtual meeting with the four school board/trustee associations. OPSBA President Cathy Abraham and Executive Director Rusty Hick attended. The Minister also held a teleconference with school board chairs. OPSBA will be reaching out to Minister Lecce and his staff to establish a re-introductory meeting to discuss OPSBA and education priorities.
The government will resume for a short period in July to read/deliver a throne speech, introduce a budget and its supporting legislation, which will be debated. The 2022 parliamentary calendar lists September 12, 2022, as the date the Legislative Assembly of Ontario will reconvene, but this may change due to the summer sitting session.
Key minister appointments in cabinet include:
Doug Ford – Premier
Sylvia Jones – Deputy Premier and Minister of Health
Doug Downey – Attorney General
Peter Bethlenfalvy – Minister of Finance
Prabmeet Sarkaria – President of the Treasury Board
Paul Calandra – Minister of Long Term-Care and Government House Leader
Todd Smith – Minister of Energy
Stephen Lecce – Minister of Education
Monte McNaughton – Minister of Labour, Immigration, Training and Skills Development
Caroline Mulroney – Minister of Transportation and Minister of Francophone Affairs
Steve Clark – Minister of Municipal Affairs and Housing
Jill Dunlop – Minister of Colleges and Universities
Greg Rickford – Minister of northern Development and Minister of Indigenous Affairs
Michael Ford –  Minister of Citizenship and Multiculturalism
Vic Fedeli – Minister of Economic Development, Job Creation and Trade, with an additional mandate for small business
Merrilee Fullerton – Minister of Children, Community and Social Services
The New Democratic Party of Ontario will be confirming their appointment for interim leader and the timelines for their leadership election. There is no confirmed timing for an interim Liberal leader. OPSBA will continue to monitor NDP and Liberal announcements regarding shadow cabinets and list of opposition critics.
See the news release regarding cabinet member appointments. 
Post-Election Standings – 124 seats:
Progressive Conservative Party of Ontario – 83
New Democratic Party of Ontario – 31
Ontario Liberal Party – 8
Green Party of Ontario – 1
Independent – 1
2021-22 Public Property Assessment Network Scholarship
The Ontario Public School Boards' Association (OPSBA) is pleased to announce the five 2021-22 winners of its Public Property Assessment Network (PPAN) Scholarship. This $1,000 scholarship is being awarded to one recipient in each of OPSBA's five regions, for three school years – 2019-20, 2020-21, and 2021-22. Scholarship recipients are students of strong character, leadership skills and potential, who care deeply about their communities and furthering their own learning. Each of OPSBA's regions has fine-tuned the eligibility and selection criteria that were taken into consideration. The 2021-22 winners are:
Central East Region – Mya Simpson, Cobourg CI, Kawartha Pine Ridge DSB
Central West Region – Victoria Gotcheva, Glenforest SS, Peel DSB
Eastern Region – Zaria Jackson, Napanee DSS, Limestone DSB
Northern Region – Billie Montreuil, Iroquois Falls SS, DSB Ontario North East
Western Region – Ewan Van Wagner, Belle River DHS, Greater Essex County DSB
The Ontario Student Trustees' Association (OSTA-AECO)
OPSBA President Cathy Abraham and staff recently had a meeting with the incoming representatives of OSTA-AECO – President Aisha Mahmoud (Hamilton-Wentworth DSB), Public Board Council (PBC) President Tiya Patel (DSB of Niagara), and PBC Vice-President Antong Hou (Ottawa-Carleton DSB). These representatives are key contacts for OPSBA and the OSTA-OPSBA Liaison Committee and the meeting was a productive session. OPSBA extends a thank you and best wishes to outgoing PBC President Jazzlyn Abbott, who also attended the meeting.
Other News Releases and Information