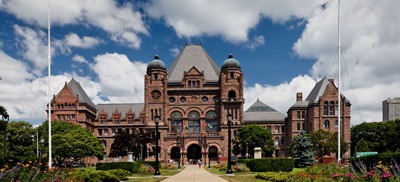 Members of Provincial Parliament were at Queen's Park on June 2 and 3 with much of their Question Period focussed on long term care facilities and anti-racism activities. No new legislation was introduced but the government did extend the provincial Declaration of Emergency again this week, to June 30. According to the government, the Declaration supports the continued enforcement of emergency orders that give hospitals and long-term care homes the necessary flexibility to respond to COVID-19 and protect vulnerable populations and the public as the province reopens. Current emergency orders include allowing frontline care providers to redeploy staff where they are needed most, enabling public health units to redeploy or hire staff to support case management and contact tracing, limiting long-term care and retirement home staff to working at one home, and preventing unfair pricing of necessary goods.
The Premier did tell reporters on June 2 that extending the province's state of emergency would not affect the province's staged reopening plan "whatsoever." Minister of Health Christine Elliott said on June 1 that the province still needed to see more progress in the fight against COVID-19 before moving to stage two of the reopening plan.
MPPs have a constituency week next from June 8 to 12 and will reconvene on Tuesday, June 16, for the first of semi-regular summer sittings.
On June 3, Minister of Education Stephen Lecce joined the Premier, Deputy Premier and Minister of Health Christine Elliott, and Laurie Scott, Minister of Infrastructure, to announce that the new "Improving Connectivity in Ontario," or ICON, program, when leveraged, has the potential to result in an investment of up to $500 million in total partner funding to improve connectivity in underserved and unserved areas." This announcement follows the Minister's earlier letter to the federal government asking for additional funding to support access to broadband.
News release, "Ontario Improving Broadband and Cell Service for Rural Communities"
On May 29, the province released its testing plan, Protecting Ontarians Through Enhanced Testing, which now indicates that Ontarians can be tested at an assessment centre for any of the following reasons:
have at least one of the symptoms of COVID-19
do not have symptoms but are concerned they might have been exposed
do not have symptoms but think they are at risk through your employment (for example, if they are an essential or health care worker)
would like to be tested
People will no longer need a referral to go to any of the more than 130 assessment centres across Ontario for testing. The Ministry of Education, in a letter to school boards, said no Ontarian will be declined a test. The letter and board template from the Deputy Minister is attached.
School Bus Operations
Transport Canada has released its Federal Guidance for School Bus Operations during the COVID-19 pandemic. The Transportation Canada D250 Committee on Safety will issue separate guidelines on Shields and Enclosure Systems that separate the driver from others as they enter and exit the bus. Although these guidelines are not mandatory, not implementing them could have a significant impact in terms of risk management and liability.
Other information