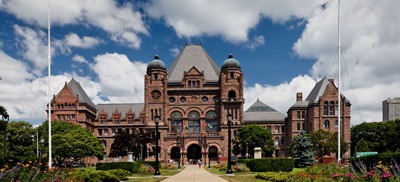 On June 29, Doug Ford officially became Ontario's 26th Premier, as he and his 21-member cabinet were officially sworn in on the main staircase of the Legislature. This was followed by an outdoor swearing-in ceremony at noon on the Queen's Park lawn where the Premier re-affirmed his oath in front of the public.
Key minister appointments in this pared-down cabinet include:
Lisa Thompson – Minister of Education
Peter Bethlenfalvy – President of the Treasury Board
Steve Clark – Minister of Municipal Affairs and Housing
Christine Elliott – Minister of Health and Long-Term Care and Deputy Premier
Victor Fedeli – Minister of Finance and Chair of Cabinet
Doug Ford – Premier and Minister of Intergovernmental Affairs
Merrilee Fullerton – Minister of Training, Colleges and Universities
Lisa MacLeod – Minister of Children, Community and Social Services and Minister Responsible for Women's Issues
Monte McNaughton – Minister of Infrastructure
Caroline Mulroney – Attorney General and Minister Responsible for Francophone Affairs
Laurie Scott – Minister of Labour
Of note, there will not be a standalone Indigenous Relations/Affairs Minister for the first time in a decade. This file is now part of the portfolio of Greg Rickford, the new Minister of Energy, Northern Development and Mines. Other Ministries that have been combined or folded include Women's Issues (Status of Women), Francophone Affairs, and Research, Innovation and Science, Early Years and Child Care. A full list of the cabinet is available here.
OPSBA will be reaching out to the new Minister of Education, Lisa Thompson, and her staff to establish introductory meetings. Thompson was first elected in 2011 and represents the Huron-Bruce riding. She was Caucus Chair and PC critic for International Trade and Critic for Indigenous Relations and Reconciliation in the last legislature.
There have been reports that MPPs will return to the Legislature in July to consider back to work legislation to end the York University strike. Media have reported the Premier stated in a scrum today that it will occur around July 9. The 2018 parliamentary calendar lists September 10 as when the Legislative Assembly of Ontario will reconvene.
Party Standings:
PC Party of Ontario – 76
Ontario NDP – 40
Ontario Liberal Party – 7
Green Party of Ontario – 1
OPSBA will continue to monitor NDP announcements regarding a shadow cabinet and list of opposition critics.
Bill C-45, Cannabis Act
Last week, the Senate approved this legislation and have announced that recreational cannabis will be legal in Canada beginning on October 17, 2018. The former Liberal government set up the Ontario Cannabis Retail Corporation and was on track to have an online store open by the federal government's legalization date. In late May, OPSBA met with representatives from then Ontario Cannabis Store (OCS) to discuss next steps, including consultation about locations near schools. Ontario's legislation, Bill 174, Cannabis, Smoke-Free Ontario and Road Safety Statute Law Amendment Act, 2017, received Royal Assent on December 12, 2017.
Ontario Ombudsman's Annual Report
Ontario Ombudsman Paul Dubé released his third annual report on June 27, 2018. In his 2017-2018 annual report, Dubé cited improvements in accountability and bureaucratic leadership in several public sector bodies as a measure of how independent offices like the Ombudsman's can make public services better. The report provides highlights of the 21,154 complaints his office received from the public in 2017-2018, and the "positive change" sparked by its investigations, including statistics from the Education (Early Years through Grade 12) sector.
Complaints about school boards for children through Grade 12 declined overall in 2017-18, dropping to 871 from 945 in 2016-2017. All complaints were resolved informally, and the report notes that the Ombudsman's Office has launched only one formal investigation related to school boards – the investigation regarding the Toronto school bus driver shortage – since gaining this jurisdiction in 2015.
Office of the Integrity Commissioner's Annual Report
The Office of the Integrity Commissioner has filed its 2017-2018 annual report.