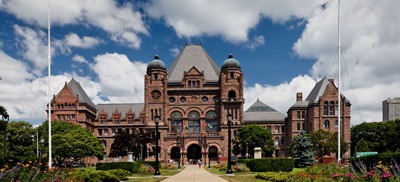 The Legislative Assembly of Ontario resumes on February 21, 2023. The New Democratic Party of Ontario has confirmed Marit Stiles (MPP Davenport) as the Leader of the party, as well as the Leader of the Official Opposition. The riding of Hamilton Centre remains vacant after former NDP Leader and MPP Andrea Horwath was elected mayor for the City of Hamilton in October. A date for the by-election has not yet been set, but it must be called by mid-February. A group of Liberal Party of Ontario members have co-signed a letter asking Green Party Leader Mike Schreiner (MPP Guelph) to consider running for their party's leadership. The letter, and the associated "Draft Mike" campaign was launched January 29.
OPSBA hosts first in-person PES since 2020
The first in-person Public Education Symposium since January 2020 was a resounding success last week, as more than 300 trustees, student trustees and school board staff leadership from OPSBA and ACEPO member boards, came to Toronto from January 26 to 28! The sold out event featured well-regarded relevant keynote speakers, including Minister of Education Stephen Lecce; Chief Cadmus Delorme, Cowessess First Nation; Nicholas A. Christakis, Sterling Professor of Social & Natural Science & Author of Apollo's Arrow, Yale University; and Roda Muse, Secretary General, the Canadian Commission for UNESCO and a former French public school board trustee.
A series of workshops and panel discussions were presented on Digital media literacy, Indigenous education and worldviews, human rights, French as a Second Language, Governance (the role of trustee and running effective meetings), Equity, Diversity, and Inclusion, OPSBA's advocacy (roles and responsibilities), and hot topics in Ontario public education. Slide decks for some of the sessions will be posted soon.
Thank you to all returning trustees for being amazing PES Ambassadors.  Regional meetings also took place with a preliminary discussion about the Association's multi-year strategic priorities. A selection of photos from the event is available on our  Facebook page. 
2022-2026 Good Governance Guide – Distribution Update
Hard copies of the fully updated Good Governance: A Guide for Trustees, School Boards, Directors of Education, and Communities were distributed to Trustees and Directors of Education who attended the Public Education Symposium. OPSBA will begin sending individual copies to those trustees who were unable to attend the symposium; print copies will be sent directly to board offices. The Guide was created in partnership with the Ontario Education Services Corporation (OESC) and is also available in electronic version. To download the full Guide, visit 2022-2026 Good Governance Guide. The Guide is an excellent resource to provide all school trustees with the knowledge they need to effectively govern their school boards.
2023 Provincial Budget Consultations
OPSBA Indigenous Trustees' Council Chair Elaine Johnston has presented to the Standing Committee on Finance and Economic Affairs in Sault Ste. Marie as part of the Ministry of Finance's pre-budget consultations. Her remarks focused on Indigenous education and northern challenges faced by our member boards in the north – rural and remote. The Association posted about her via social media on Twitter and Instagram.
Please note that the deadline (February 10, 2023) for the government's online budget survey is approaching. OPSBA encourages everyone to participate in the survey and to directly advocate for public education as a budget priority. OPSBA has sent a modified version of its Grants For Student Needs (GSN) submission to the Committee.
AMO's Ontario Small Urban Annual Conference
The Ontario Small Urban Municipalities' (OSUM) 2023 Annual General Meeting and Conference will be hosted by the County of Brant from April 26 – 28, 2023. "Last held in 2019, the OSUM Conference draws close to 250 municipal leaders from across Ontario to examine and address issues of the day facing small urban municipalities. OSUM represents the official voice on small urban issues for the Province of Ontario and is an integral part of the Association of Municipalities of Ontario (AMO), with a number of OSUM members serving on the AMO Board of Directors." For more information, visit Ontario Small Urban Annual Conference is Back for 2023.
Applications for the new Canada Dental Benefit
The federal government has created the Canada Dental Benefit, which provides eligible parents or guardians with a direct tax-free payment of up to $650 per year for two years to help cover dental expenses for children under 12. This is a temporary benefit, which will support an estimated 500,000 children, and is available to families without private dental insurance and with an adjusted family net income under $90,000. The permanent program is being developed and is due in 2024. The first benefit period is for children under 12 years old as of December 1, 2022, who receive oral health care between October 1, 2022, and June 30, 2023. The Canada Revenue Agency began receiving applications and processing payments for the benefit on December 1, 2022.
Children under 12 who are covered by provincial, territorial or federal (e.g. Non-Insured Health Benefits, Healthy Smiles Ontario) programs are eligible for the Canada Dental Benefit if they and their family meet all of the criteria to qualify for the benefit and as long as they have out-of-pocket expenses that have not been covered by their provincial, territorial or federal program. For more information on eligibility requirements, how to apply, and payment amounts for the new Canada Dental Benefit visit Canada Dental Benefit.
Other News Releases and Information