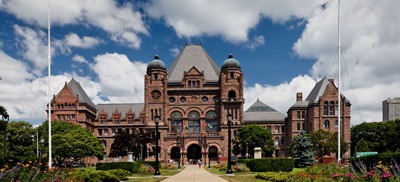 There are now only two sitting weeks left in the fall session with the Legislative Assembly of Ontario rising on December 12, 2019. Many pieces of legislation are being time-allocated in order for them to pass their legislative stages before the House rises.
OPSBA Advocacy Day
The Association's second Advocacy Day was a tremendous success. Board of Directors members and student trustees spent the day at Queen's Park meeting with their local MPPs. The day began with a breakfast meeting with the Minister of Education, attendance in Question Period, and an evening reception. In total, OPSBA representatives met with 54 MPP offices (24 PC, 23 NDP, three Liberal, one Green, and one Independent). OPSBA engaged Nanos Research in November to conduct a public opinion poll on a number of education-related topics. The polling and research was announced publicly as a part of the Association's press conference that morning.
OPSBA media release, and three handouts that focus on Indigenous Education, The Whole Child & Student Well-Being and Education Funding
Bill 151, Smoke-Free Ontario Amendment Act (Vaping is Not for Kids)
This legislation was introduced on November 27 by NDP MPP France Gélinas. Its intention is to amend the Act to prohibit the promotion of vapour products. Health Minister Christine Elliott has said the government will ban the promotion of vaping products in convenience stores and gas stations starting January 1, 2020. The bill is at First Reading.
Bill 138, Plan to Build Ontario Together Act, 2019
This legislation was introduced on November 6 by Minister of Finance Rod Phillips and is the legislation to support the Fall Economic Statement, which includes amendments to 40 different Acts. The legislation was time allocated and has been referred to the Standing Committee on Finance and Economic Affairs. The Committee intends to hold public hearings in Toronto on  December 2, 2019. Written submissions are also due at that time.
Bill 116, Foundations for Promoting and Protecting Mental Health and Addictions Services Act, 2019
This legislation was introduced on May 27 by Minister of Health Christine Elliott. It enacts two Schedules, the Mental Health and Addictions Centre of Excellence Act, 2019, and the Opioid Damages and Health Costs Recovery Act, 2019. On November 28, the government's time allocation motion was tabled and will be voted on early next week. The motion would refer the legislation to the Standing Committee on Social Policy, conduct public meetings on December 6, have written submissions due December 6, and require the bill to return to the House for Third Reading on December 11, 2019.
Review of Peel District School Board
In early November, at the request of the Chair and Director of Education, Education Minister Stephen Lecce announced a review of the Peel District School Board. Ontario Regulation 43/10: Provincial Interest in Education was amended on November 8, 2019, to include a section referencing the review of the Peel DSB, which includes a revocation date of December 31, 2020. Last week, the Minister announced that Suzanne Herbert and Ena Chadha have been appointed to conduct an immediate review of the board.
Other Information