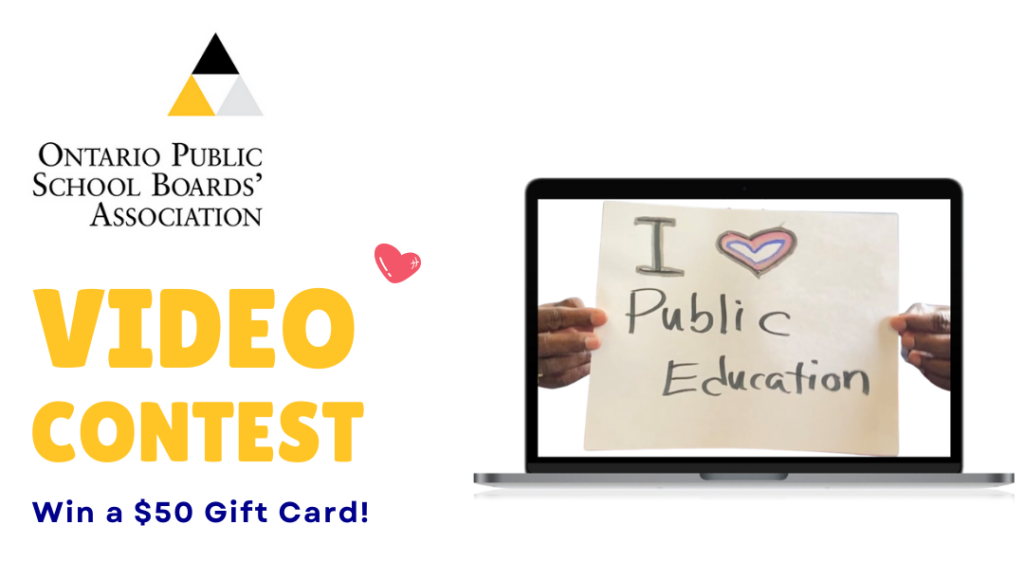 Public education is the bedrock of a healthy, equitable, inclusive and diverse society. The teaching, learning, collaborating, sharing, and much more that happens within the walls of an Ontario public school is among the very best in the world. Our school boards and schools work tirelessly to ensure that every student has the opportunity to succeed regardless of background, identity or personal circumstances.
Video Contest
In an effort to showcase the diversity of voices in public schools across the province, the Ontario Public School Boards' Association (OPSBA) and Ontario Student Trustee Association's (OSTA-AECO) Public Board Council is asking participants to submit a short clip (three to five seconds) holding a small sign with the phrase/image: "I ❤️ Public Education!" Participants can write this in their "first language" (which may or may not be English) or any non-English language typically spoken at home.
The submissions will be used to create a two to three minute video showing the full range of diversity of ages, faces, voices, and places that make up our provincial public schools, and their collective love of learning and the shared values of public education.
Recording and Uploading Instructions
The video can be recorded wherever you would like using a smartphone or any video device in standard video formats (.mp4, .avi, .mov, .m4v).

You are encouraged to film at school, or any other location that is special to you and/or emblematic of your local community.

All video files must be submitted through our contest Dropbox portal. Students must also submit their name, school, and school board with their video clips. The video clip's file name must include this information in order for OPSBA to be able to contact the winners. (i.e. EthanWu_SmithPS_OCDSB)
Rules and Prizes
Although we encourage participation from all those involved in our education system, the contest winners will be selected from student submissions. The contest is open to any student from Junior Kindergarten to Grade 12 in Ontario, so long as they are enrolled in a school that is part of a public district school board or school authority that is a member of the OPSBA.
All students who submit a clip will be automatically entered into a prize draw for a $50 Indigo e-gift card.
The deadline for this contest is May 31, 2022 at 5 p.m.
The final video will be posted on OPSBA's social media accounts by mid-June.
Legal
If you are under the age of 18, you should ask your parent, guardian, or teacher for permission before submitting any footage to the contest.
Contest participants give the Ontario Public School Boards' Association (OPSBA) and Ontario Student Trustee Association (OSTA-AECO) permission to use their, or their child's, name, image, student work, and/or performance (hereinafter collectively referred to as "Works"), and to display, publish or distribute these Works for the purpose of publishing, posting on the OPSBA and OSTA-AECO websites, posting in schools, posting on social media sites and/or for broadcasting on television or radio as determined by OPSBA.
By participating in this contest, participants understand that the Works created may appear in electronic form on the internet, in print or in other publications outside of OPSBA and OSTA-AECO's control. Participants agree that they will not hold the OPSBA or OSTA-AECO responsible for any harm that may arise from such unauthorized reproduction.
Participants hereby waive any right to approve the use of these Works now or in the future, whether the use is known or unknown, and waive any right to any royalties related to the use of these Works.
Questions or concerns regarding the use of submissions can be submitted to communications@opsba.org.