Educating the Educators: Indigenizing Music Education
By Ross Howey, Waterloo Region DSB
​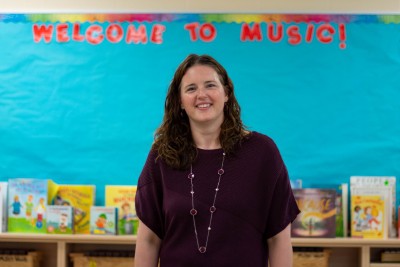 Photo Credit: Courtesy of Waterloo Region DSB
The eyes of educators and community members alike were glued to Niki Kazemzadeh, an elementary music teacher at Millen Woods Public School, as she presented her learnings on Indigenizing Music Education at the Waterloo Region District School Board (WRDSB) Education Centre. Her findings, the result of her work towards a Masters of Arts degree in Community Music at Wilfrid Laurier University (WLU), focused on the integral role music educators play in creating inclusive learning spaces, striving to decolonize their classrooms and the opportunity they have to build strong relationships with students throughout their academic career.
"We have a really important job to do," said Kazemzadeh. "All educators, all people, need to take time to learn, unlearn and challenge what they think they know."
Her journey began more than a year ago, while Kazemzadeh was on maternity leave and decided to extend her time off, just as she discovered the newly revamped Masters program that would be available to be completed full-time in one year, instead of the usual part-time schedule. Kazemzadeh, who completed her undergraduate degree at WLU, jumped at the opportunity.
"It was perfect," said Kazemzadeh. "It just seemed to be serendipity that it lined up that way."
When tasked with deciding on a focus for her Masters work, she knew almost immediately what she wanted to do. For years, she's been hoping to provide professional development sessions on incorporating Indigenous perspectives for her fellow music educators, as she knows it's something the system is eager to have.
"I can't imagine any other project that I would rather do," said Kazemzadeh.
The decision to focus the sessions on bringing Indigenous perspectives into music education is the result of years of work Kazemzadeh has done on the subject. When she first started teaching as a classroom French Immersion teacher, she quickly realized there was a large gap in her knowledge when it came to understanding Indigenous realities that she wanted to address. She took it upon herself to learn as much as she could, and attended every PD session possible that was offered by the WRDSB Indigenous Learning Team (ILT).
​

Photo Credit: Courtesy of Waterloo Region DSB
When she was hired for her dream job teaching music, she realized she had a unique opportunity to reach every student in the school, and the opportunity to offer a consistent voice and message in her music teaching.
"I'm the only person in the school that teaches everybody," said Kazemzadeh. "That's my unique job I think."
Looking back on the PD sessions she led, Kazemzadeh hopes that the educators who attended came away with questions to ask of themselves, their practices and the physical space in which they teach. Why did you pick that song? Why are you doing that activity? What permission do you have? What context are you providing to your students?
"I hope that all of us rethink and question our own practices," said Kazemzadeh. "I think that's the biggest thing – doing things with intention and context and including authentic voice from the cultures you're representing in your classroom."
This kind of thinking, and efforts to decolonize music education, are crucial as they can help give students the critical lens they need. Music and the arts have the unique strength of addressing the whole student, she explained, as it involves not only analytical, logical thinking, but also creative and mindful capacity as well. This sort of critical thinking can also help teachers ensure their educational spaces are reflective of the students in them.
"Our classrooms are not homogenous, so our curriculum should not be either," said Kazemzadeh.
In applying critical thinking to her own classroom, Kazemzadeh challenged herself to do an equity walk and assess the materials on display. After careful reflection, she decided to take down a number of posters that displayed only orchestral instruments, as they were limiting and presented a narrow view of musical instruments. Instead, she tasked her students with discovering what instruments they had around their own homes. The results included everything from synthesizers to washboards.
"None of these would have been up on the board, but they are instruments that are important to my students," said Kazemzadeh.
​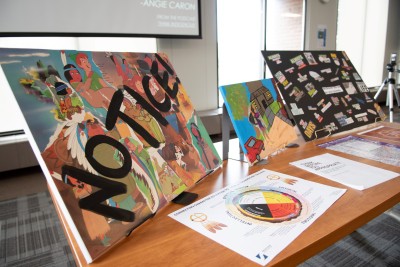 Photo Credit: Courtesy of Waterloo Region DSB
For Kazemzadeh, it's important to acknowledge that she is a non-Indigenous person approaching this work. However, she explained it's important content to have in the classroom, and content that should be included, even if the educator is non-Indigenous. It's not an easy process, but an important one.
"We need to be allies," said Kazemzadeh. "It is uncomfortable. As it should be."
Nicole Robinson, equity and inclusion officer – Indigenous focus with the Waterloo Region District School Board, has been working with Kazemzadeh for a number of years and notes she hasn't seen many other people as committed to understanding their position as a non-Indigenous person doing this work.
"She's very intentional about talking about that," said Robinson. "It's not easy work." 
Like anyone, Kazemzadeh experienced missteps and errors, but Robinson explained she never saw them as a failure or stumbling block. Each time, she immersed herself in the discomfort and processed her way through it, rather than avoiding it.
"It is a constant evolution," said Robinson. "It is a process and it's amazing – she has really come a long way."
Connecting Indigenous content to the curriculum is an important step to help make Indigenous students feel more welcome, connected and represented, Robinson explained. However, it's not a process without potential pitfalls. If done incorrectly, it can have the opposite effect. Kazemzadeh's work, Robinson added, helped to give educators the tools to engage in a respectful manner by focusing on contemporary Indigenous music, as well as historical content. This way, students are able to understand and learn about Indigenous peoples in a contemporary, rather than historical context.
Robinson's recommendation to any educator looking to include Indigenous content in their teaching is to reach out and ask for advice. The Indigenous Learning Team (ILT), of which Robinson is a part, is available to help educators navigate the grey areas when it comes to including Indigenous content in their teaching.
​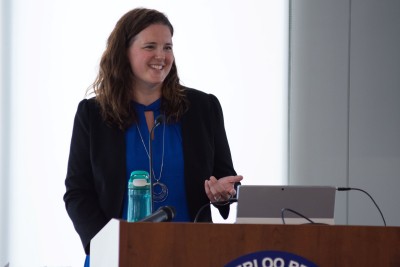 Photo Credit: Courtesy of Waterloo Region DSB
All school boards are at different stages in navigating how to incorporate Indigenous content into music classrooms, Robinson explained. She is happy to see progress being made in this area and hopes that Kazemzadeh's work inspires others to carry it forward.
"I feel good about this as a starting point for us," said Robinson. "You don't have to do things perfectly the first time, as long as you're doing something from the heart."
Christina Elmslie, a consultant in learning support services and a member of the ILT, was also involved in supporting Kazemzadeh's PD sessions. Elmslie sees Kazemzadeh's work as part of the ongoing efforts to address the Truth and Reconciliation Commission of Canada's calls to action; specifically, items 62 and 63. (http://trc.ca/assets/pdf/Calls_to_Action_English2.pdf)
These items, falling under Education for Reconciliation, include calls to include age-appropriate content in the curriculum regarding Aboriginal peoples' historical and contemporary contributions to Canada. Striving to address these points would not be possible without offering this kind of support to educators in the WRDSB so that they may bring this way of thinking to their students every day.
It's clear that Elmslie is passionate about the work the ILT does within the WRDSB, and that she takes it very seriously. She sees the same passion, knowledge and commitment in Kazemzadeh. "Energetic, sincere, hardworking, earnest, heartfelt," were just a few of the words that Elmslie used to describe Kazemzadeh's approach to the work she has been doing. "It's pretty special," said Elmslie.
Taking a quick moment aside from putting the finishing touches on her final paper to reflect on her experience working towards her Masters degree and her efforts providing PD opportunities to her colleagues, Kazemzadeh is nothing but grateful for the time she's had.
"I could not have loved this year any more," she said. "It was such a gift."