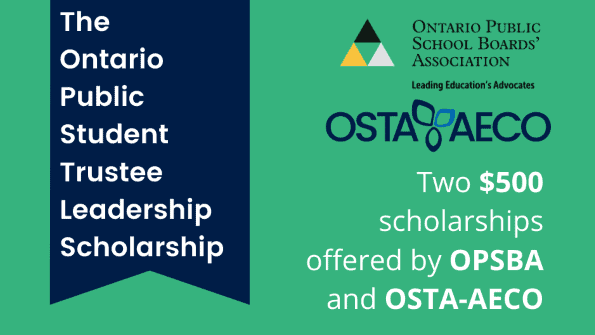 Nominations are now open for the Ontario Public Student Trustee Leadership Scholarship!
The intent of this award is to recognize outstanding achievement in a leadership role and provide financial support to a graduating public board student trustee to assist with their post-secondary education plans (University, College, or Apprenticeship).
Student trustees represent the voice of students in decisions about education and they help keep students informed about important decisions that affect them. They play an important role in the education governance process and are actively working at the local board and provincial levels on a number of initiatives.
This scholarship is based on an outstanding initiative accomplished during the student trustee's term and how the initiative positively impacted the students in their board. Two scholarships, in the amount of $500 each, will be awarded.
Application criteria and background information
Application flyer in PDF format