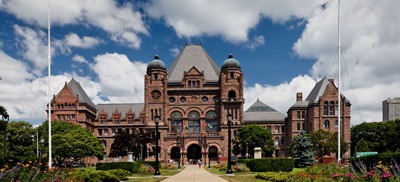 The OPSBA Board of Directors held a meeting on May 3 and 4, 2019, in Toronto. Lucille Kyle, Vice-Chair of OPSBA's Indigenous Trustees' Council (ITC), gave an acknowledgement that the meeting was being held on the traditional territory of the Haudenosaunee Confederacy, the Mississaugas of the New Credit First Nation and the Métis Nation.
Ryan Brown and Sean McCloskey, President and Vice-President, respectively, of the Ontario Student Trustees' Association's (OSTA-AECO) Public Board Council attended on Friday night and spoke to OPSBA Directors regarding the association's 2018-19 focus and key initiatives. They also noted the benefits of student trustees belonging to OSTA-AECO and encouraged all school boards to join their association.
Education policy and program issues that were discussed in public session at the meeting are summarized below.
Legislative Update
The Legislative Assembly of Ontario adjourned for a constituency week that coincided with the Easter break. MPPs reconvened on April 29. There is one more constituency week scheduled to align with Victoria Day and the current parliamentary calendar lists the last sitting day as June 6, 2019. Updates were provided on recent and current legislation including:
OPSBA President Cathy Abraham was joined by Executive Council members, the Indigenous Trustees' Council Vice Chair, student trustee leaders and OPSBA senior staff in an Advocacy Day at Queen's Park on April 8, 2019.
Finance
Updates were provided on the release of the Grants for Student Needs and the 2019-20 Ontario Budget.
Communications and Media Relations
Updates on recent OPSBA communications issues were provided. OPSBA has released two statements and two media releases since the last Board of Directors meeting February. These can be found on the OPSBA website. OPSBA, through President Cathy Abraham, has been extremely active in the provincial news media in the past two months, with more than two dozen interviews and media appearances speaking to school board concerns including the provincial budget, proposed changes to class size and e-learning, and the Ontario Autism Program.
Program Policy Update
A summary of Ministry meetings, workgroups and program-related announcements was provided. Information shared included updates on the following:
Ontario Autism Program (OAP) Public Consultations
On May 1, 2019, Minister of Children, Community and Social Services Lisa MacLeod, announced details for the government's plans for their public consultations regarding the Ontario Autism Program (OAP). The government's consultations will occur during the month of May and include telephone town halls, an online survey and an opportunity for individuals to email their additional information or comments. OPSBA will be responding to the consultation.
Ministry Initiatives Committee
The Ministry held the first Ministry Initiatives Committee on March 6, 2019. The focus of the meeting was mathematics. Consultation questions were provided regarding a revised math curriculum and the math content test for teachers.
EQAO
An online/teleconference information session was recently held and geared toward new trustees, but any trustee was able to attend. The intention is to archive the slide deck and voice over for anyone to access on the EQAO site. EQAO will notify OPSBA when it is available. The next EQAO meeting is on May 29, 2019.
National Conversation on Student Based Mental Health
For the past several years, the McConnell Foundation has been supporting work across Canada to kickstart efforts in integrating well-being into K-12 education through its "Well Ahead" initiative. As a part of this initiative, McConnell has supported School Mental Health ASSIST to identify and describe key elements that support the use of effective, scalable, and sustainable mental health and well-being practices in Ontario schools. The national conversation held in August identified challenges and opportunities in common across the provinces. The next roundtable will be held in Fredericton and OPSBA staff have been invited.
Service Dog Policies in School Boards
The Ministry of Education has released a survey and draft Policy/Program Memorandum to consult on School Board Policies on Service Animals. This topic is part of the recently passed Safe and Supportive Classrooms Act, 2018. OPSBA sent a submission on May 3.
CSBA Congress and National Trustees' Gathering on Indigenous Education
OPBSA is hosting the 2019 Canadian School Boards Association (CSBA) Congress and the National Trustees Gathering on Indigenous Education (NTGIE) from July 3 to 7 in Toronto. Online Registration is open. Keynote and plenary speakers include:
National Chief Perry Bellegarde, Assembly of First Nations
Dr. Gabor Maté, renowned specialist on addiction, depression and child development
Susan Dion, Ph.D. Associate Professor, Indigenous Education and Research, York University
Malcolm Saulis, Indigenous Scholar/Elder, Wilfrid Laurier University
Valérie Chort, Vice President, Corporate Citizenship and Executive Director, RBC Foundation, Royal Bank of Canada
Brian Woodland, communications consultant