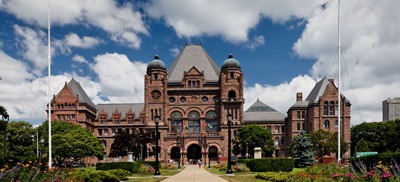 The Legislative Assembly of Ontario reconvened this week on Monday, September 14, 2020. The government issued a news release, Health Preparedness and Rebuilding the Economy Top Priorities in Ontario's Fall Legislative Agenda, outlining its priorities for the fall session. The following  is a summary of recent activity.
September Return-to-School Plans
More Ontario school boards had their students return to school from September 14 to 18, both physically to classrooms as well as participating online via virtual schools. On September 16, the government announced the launch of a "new voluntary interactive screening tool to assist parents, students and staff with the daily assessment of COVID-19 symptoms and risk factors that is required before attending school." The web page asks respondents about symptoms, travel history, recent interactions with individuals who have had the virus and any recent positive results or isolation orders.
On September 17, the Deputy Minister sent two memos regarding:
COVID-19 Update
As COVID-19 case numbers spiked in Ontario, the government set new limits reducing the number of people permitted to attend unmonitored social gatherings and organized public events across the province, as of September 19. This includes functions, parties, dinners, gatherings, BBQs or wedding receptions held in private residences, backyards, parks and other recreational areas.
The number of people allowed to attend an unmonitored social gathering or organized public event in the province is now 10 people at an indoor event or gathering (previous limit of 50) or 25 people at an outdoor event or gathering (previous limit of 100). Gatherings of 35 (25 outdoors and 10 indoors) are not permitted.
The new limits will not apply to events or gatherings held in staffed businesses and facilities, such as bars, restaurants, cinemas, convention centres or banquet halls, gyms, and recreational sporting or performing art events. Existing rules, including public health and workplace safety measures, for these businesses and facilities continue to be in effect.
Across Ontario, additional amendments to the Reopening Ontario (A Flexible Response to COVID-19) Act would, if passed, create:
A new offence regarding hosting or organizing a gathering in residential premises or other prescribed premises that exceeds limits under an order
A minimum fine of $10,000 for organizers of these gatherings
Authority for the Lieutenant Governor in Council to prescribe additional types of premises for the purpose of the new offence.
Authority for a police officer, special constable or First Nations constable to order the temporary closure of a premise where there are reasonable grounds to believe that any gathering exceeding the number of people allowed is taking place and require individuals to leave the premises.
Testing for COVID-19 is currently available at any of the province's 147 assessment centres.
Bill 204, Helping Tenants and Small Businesses Act, 2020
This legislation was introduced on September 17 by Steve Clark, Minister of Municipal Affairs and Housing. The government issued a news release entitled, Ontario Introduces Legislation to Freeze Residential Rent in 2021 that includes the backgrounder, Ontario Supporting Renters and Small Businesses in COVID-19 Recovery. Of note in the backgrounder is this proposed change: 
Municipal Elections Act, Municipal Act, Election Act, Assessment Act, and Municipal Property Assessment Corporation Act
The proposed amendments would create a single register of electors for municipal and provincial elections that would be used by Elections Ontario and municipalities. A single list is expected to be more accurate, and could mean fewer corrections for voters at polling stations, and fewer delays for people on election day.
These changes would cut red tape and help make voting easier for voters, candidates and municipal clerks in time for the 2026 regular municipal elections and any municipal by-elections initiated after January 1, 2024.
The single list would be managed by Elections Ontario. Currently, the Municipal Property Assessment Corporation provides municipalities with a preliminary list of people eligible to vote for every municipal election. This initial list that has been created by MPAC is used by boards for the determination and distribution of trustees in advance of elections.  Having Elections Ontario take over this function should provide for much greater accuracy for trustee determination and distribution.  For the election itself, municipal clerks make corrections and revisions to develop the voters list.
New Teacher Education Resources
This week the Ontario College of Teachers shared recently developed, "new teacher education resources designed to be used as tools for deepening understanding and exploration of environmental stewardship and ecological literacy within teacher education and professional practice." The resources include ECO-PLACEMATS and ECO-CARDS, which can be found on the on the College website.
Other News Releases and Information