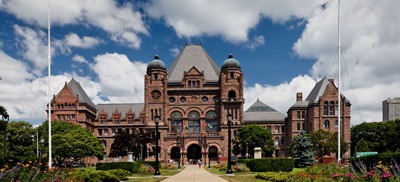 November 5 to 9 is a constituency week for MPPs and they return to the Legislative Assembly of Ontario on November 12. On November 1, Vic Fedeli, Minister of Finance, announced that the 2018 Ontario Economic Outlook and Fiscal Review will be tabled on November 15.
Early on November 5, the Premier announced a cabinet shuffle, following the November 2 resignation of Jim Wilson as Minister of Economic Development, Job Creation and Trade. Wilson has also left the PC Caucus. The shuffle included the following ministerial assignments:
Todd Smith, MPP for Bay of Quinte, served as interim Minister of Economic Development, Job Creation and Trade over the weekend, assumed full-time responsibility for this portfolio in addition to his ongoing responsibilities as Government House Leader.
John Yakabuski, MPP for Renfrew-Nipissing-Pembroke, is now Minister of Natural Resources and Forestry. He was previously the Minister of Transportation. Jeff Yurek, MPP for Elgin-Middlesex-London and the former Minister of Natural Resources and Forestry, is the new Minister of Transportation.
Sylvia Jones, MPP for Dufferin-Caledon, was appointed Minister of Community Safety and Correctional Services, swapping portfolios with new Minister of Tourism, Culture and Sport Michael Tibollo, MPP for Vaughan-Woodbridge.
Bill Walker, MPP for Bruce-Grey-Owen Sound, was appointed to cabinet as the Minister of Government and Consumer Services.
Lorne Coe, MPP for Whitby, was appointed Government Caucus Whip and Doug Downey, MPP for Barrie-Springwater-Oro-Medonte, was appointed Deputy Government Caucus Whip.
All other Ministerial, Parliamentary Assistant, and Government Caucus and Committee roles remained unchanged.
Provincial Education Reform Consultation – OPSBA Consultation Resource
As noted in previous updates, OPSBA has shared with its members a resource document intended to help individuals and school boards when completing the online submission and/or the online survey and participating in the telephone town hall meetings. The points of information under each topic include evidence-based information and past position statements. The deadline for the consultation process is December 15, 2018.
Additional consultation details can be found at https://www.ontario.ca/page/for-the-parents.
2018 Municipal and School Board Elections – Results for all four school board/trustee associations
To view a listing of trustees elected for the 2018-2022 term, visit OESC's centralized School Board Elections website. Under the "Resources" Heading, click on "Your 2018-2022 Trustees." Choose a school board system – English Catholic, English Public, French Catholic or French Public. Then select the name of the school board. You will be able to see a listing of trustees in each school board ward/area.
Bill 48, Safe and Supportive Classrooms Act, 2018
On October 25, 2018, Minister of Education Lisa Thompson introduced Bill 48, Safe and Supportive Classrooms Act. The legislation, if passed, would require teachers to pass a math test before getting licensed and would revoke teaching certificates from teachers disciplined by the profession's regulatory body for committing sexual abuse against a student or child. The Ministry also issued a separate news release, Ontario Supporting Students with Special Needs, about the section in the proposed legislation concerning service animals. It indicates there will be an opportunity for stakeholders to "provide input on the policy directive that would be issued to boards." OPSBA will be sending in a submission regarding this legislation and our support for a consistent policy approach across the province. We have surveyed our boards and many have either a policy or procedure in place while others review on a case by case basis. The bill remains at First Reading but will likely begin Second Reading after the constituency week.
The following is an excerpt from the legislation:
"SCHEDULE 2 EDUCATION ACT The Education Act is amended to provide that the Minister may establish policies and guidelines respecting service animals in schools, and require boards to comply with the policies and guidelines and to develop policies in accordance with those policies and guidelines."
Bill 48, Safe and Supportive Classrooms Act, 2018
Lisa Thompson, Minister of Education
| | | | |
| --- | --- | --- | --- |
| ​Date | Bill state​ | ​Activity | ​Committee |
| October 25​ | ​First Reading | ​Carried | ​ |
Bill 47, Making Ontario Open for Business Act, 2018
This legislation was introduced on October 23 by then Minister of Economic Development, Job Creation and Trade, Jim Wilson. The bill proposes to amend the Employment Standards Act, 2000, the Labour Relations Act, 1995 and the Ontario College of Trades and Apprenticeship Act, 2009. OPSBA is reviewing the bill with our legal counsel to determine the direct and indirect implications to the education sector.
Bill 47, Making Ontario Open for Business Act, 2018
Jim Wilson, Minister of Economic Development, Job Creation and Trade
| | | | |
| --- | --- | --- | --- |
| ​Date | Bill state​ | ​Activity | ​Committee |
| ​October 31 | ​Second Reading | ​Debate | ​ |
| October 30​ | ​Second Reading | ​Debate | ​ |
| ​October 29 | ​Second Reading | Debate​ | ​ |
| October 23​ | ​First Reading | ​Carried on division | ​ |