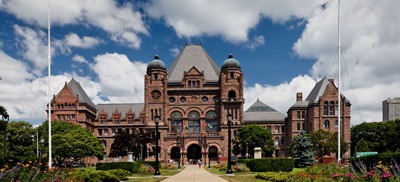 The Legislative Assembly of Ontario resumed on May 19 and 20. These were the first days the House convened for non-emergency sittings since it recessed when the pandemic hit in March. Both days included Question Periods in the morning and Member Statements in the afternoon. No new legislation was introduced. MPPs are now scheduled to meet for the next two weeks on Tuesdays and Wednesdays and rise for the summer after the session on June 3, 2020.
The government has extended the emergency orders until June 2, which includes the closure of bars and restaurants except for takeout and delivery, restrictions on social gatherings of more than five people, and staff redeployment rules for long-term care homes and congregate settings like retirement homes and women's shelters. The government is also allowing drive-in religious gatherings. Outdoor playgrounds, play structures and equipment, fitness equipment, public swimming pools, splash pads and similar outdoor water facilities will remain closed until later stages of the province's reopening plan.
COVID-19 Update
Following the March Break, Ontario's schools have now been closed for nine weeks due to the COVID-19 pandemic, with students and teachers connecting from home.
Earlier this week, Premier Doug Ford and Minister of Education Stephen Lecce announced that schools would be closed to the end of the 2019-20 school year. All students who were on track to graduate from secondary school before the initial school closure order was made in March will be able to graduate, and all students will receive report cards. The ministry's news release also referenced the document entitled Ontario's Framework for Continued Learning that has a subsection called Transitioning Back to School. It is our understanding that a more structured consultation will be posted online as well in the coming days. OPSBA will be working with its member boards to collect information and share with the government.
Private schools, licensed child care centres and EarlyON programs will also remain closed for the safety and protection of children, families and staff through Stage 1 of the Framework for Reopening the Province. Emergency child care will continue to operate and provide support for health care and other frontline workers. A gradual reopening of child care is expected to begin when the province is ready to transition to Stage 2 based on public health criteria, which will include robust safety protocols for the safety of Ontario's youngest learners and their staff.
Certain retailers, seasonal businesses and health and community service providers were also permitted to open or expand their services this past week. The government has said that workplaces opening as part of this stage are well-positioned to put workplace safety measures in place and get more people back to work, while not overburdening public transit and other services.
Collective Bargaining
On May 22, OPSBA announced the ratification of the tentative settlements with the Ontario Secondary School Teachers' Federation (OSSTF) for both teachers and education workers on April 20, 2020.
OPSBA news release
OSSTF news release
Government statement
Other information
• May 20, 2020 News Release – Ontario Reduces Financial Barriers to Postsecondary Education
• May 20, 2020 News Release – As Ontario Reopens, People Urged to Continue Following Public Health Advice
• May 19, 2020 News Release – Health and Safety Top Priority as Schools Remain Closed
• May 19, 2020 – Letter from Minister Stephen Lecce to Parents
• May 19, 2020 – OPSBA statement regarding the closure of schools through to the end of the 2019-20 school year