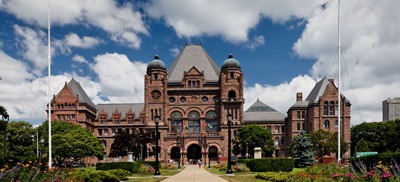 The province continues to operate in the Writ Period of the election process. With the Legislative Assembly of Ontario dissolved, MPPs have stopped serving as Members of Legislative Assembly, but their constituency offices remain open.
Elections Ontario Information
All candidates have now been identified by the political parties for the June 2, 2022 election. Voter Information Cards have been sent to eligible voters and voters can also confirm, update or add their information to the voters list until May 23, 2022. The Elections Ontario website provides details on how to register and ensure voters bring the right identification to the advance polling stations (which started yesterday and continue until May 28) and on Election Day.
In case you missed them, you can see coverage of the two debates:
There are a number of pollsters with varying results – Nanos,  Abacus Data, Leger, Mainstreet Research, EKOS , Innovative Research Group – and CBC has a poll tracker as well: the CBC poll tracker
Pre-Election Party Standings – 124 seats:
Progressive Conservative Party of Ontario – 67
New Democratic Party of Ontario – 39
Ontario Liberal Party – 7
Green Party of Ontario – 1
New Blue Party of Ontario – 1
Ontario Party – 1
Independent – 5
Vacant – 3 (Don Valley East, Ajax, Elgin—Middlesex—London)
Education Day – May 18
OPSBA declared May 18 as Education Day in the province of Ontario and OPSBA President Cathy Abraham released a video that was shared on social media and with education partners. Education Day debates coordinated by local public school trustees, with resources provided by OPSBA, were held in Toronto, and organized by Toronto DSB Chair Alexander Brown and Trustee Shelley Laskin. Congratulations to Chair Brown and Trustee Laskin for bringing together local candidates to discuss the education issues that matter. The Toronto DSB also held a press conference calling on all provincial parties to support schools with adequate and stable funding that fully supports all pandemic costs. In the Simcoe County DSB, Chair Jodi Lloyd sent a letter to provincial candidates in all ridings with SCDSB schools, outlining significant pressures that the SCDSB is facing that have a direct impact on students and constituents.
OPSBA staff created valuable resources for those organizing all candidates meetings and researching party platforms, including:
Throughout this provincial election campaign, OPSBA has been encouraging parents, students, seniors and other members of the public to learn the issues impacting Ontario's public schools before voting. In addition, OPSBA has reached out to the four main parties elected to the Ontario legislature – the Progressive Conservatives, New Democrats, Liberals, and Greens – with a questionnaire on six key education issues this election. Questionnaire responses as of today: New Democratic Party, Liberal Party and the Green Party of Ontario.
For more information, visit 2022 Ontario Provincial Election.
Canadian School Boards Association (CSBA) Advocacy in Ottawa
This past week, delegates from the CSBA were in Ottawa to meet with Ministers, Members of Parliament, Senators and key stakeholders as part of the national association's advocacy for public education issues. The main topics discussed were Indigenous Education, Student Health, Anti-Racism, Minority Languages, and Democratic Representation in Education.
See CSBA's news release.
President Cathy Abraham attended on behalf of OPSBA and participated in meetings with representatives from the following areas: Indigenous Services, Crown-Indigenous Services, Official Languages, Immigration, Housing, Diversity and Inclusion, Refugees and Citizenship, Canadian Heritage, Mental Health and Addictions, and Health and Sport. These meetings provided an opportunity to develop a deep understanding of the shared responsibilities of the CSBA, locally elected governing school boards, and federal departments.
In addition, CSBA has produced resources to support the trustee elections that are taking place this year in Ontario, BC and Manitoba.
See the resources designed to encourage and support greater diversity in candidates and at the board table.
Municipal and School Board Elections – New OPSBA Resource
With some trustees already registering their candidacy for the upcoming Municipal and School Board Elections, OPSBA has created a brief overview and reminder regarding Trustee Activities And Actions During The Municipal Campaign Period. Trustees who are currently members of school boards are expected to remain fully committed to their role and responsibilities up until the end of their term on November 14, 2022 – this includes participating and attending school events (graduations, end-of-year celebrations) in the upcoming months. They may do so as this is part of the regular duties of a trustee.
All candidates are encouraged to send their profiles (name, school board and ward). Candidates can also include a photo, a brief biography, social media handles, email addresses and website URLs with their profile. The information will be included in the revised and updated school board elections website.
OPSBA's 2022 AGM and Program Re-Connecting and Making a Difference
OPSBA looks forward to welcoming members back in person at the 2022 AGM and Program. The hotel cut-off date is Monday, May 23. Book your stay by phone: 1-888-236-2427 – Quote "OPSBA Meeting June 2022" or online: Book Your Group Rate | Marriott International
Join us to determine priorities and directions for the coming year, elect officers and plan for the future. You will be able to select your Professional Development workshops on site. Choices will include sessions on Equity, Diversity and Inclusion, Sharing Circles and Indigenous Education, Learning with Student Trustees, and a selection of Governance Workshops.
For more information and to register, visit the 2022 AGM and Program website.