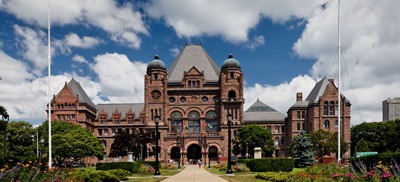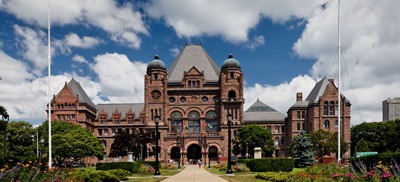 Queen's Park reconvened for a rare summer sitting on Wednesday with a first order of business to elect a speaker. Candidates for speaker had to be officially nominated in the House, after which MPPs from all parties voted in secret for their preferred candidate using paper ballots. Wellington-Halton Hills MPP Ted Arnott was elected Ontario's new Speaker of the House on the first ballot. Arnott is a former deputy speaker and has been an MPP since 1990.
On July 11, the Honourable Elizabeth Dowdeswell, Lieutenant Governor of Ontario, delivered the Speech from the Throne which opened the first Session of the 42nd Parliament of Ontario. Next Monday will be the first official sitting day of the session. The new chamber seating plan includes 14 PC MPPs that have to sit on the other side of the aisle in between the Liberal and NDP caucuses.
Most MPPs now have their constituency and Queen's Park offices set up but not all political staff have been hired. All contact information is available on the legislative website, including the list of new cabinet ministers and their parliamentary assistants.
NDP Leader Andrea Horwath will not be assigning new critic roles to her caucus ahead of the summer legislative session. Horwath told reporters NDP MPPs from the previous government will hold onto their former critic roles until fall.
Interim Liberal leader John Fraser announced the seven-person Liberal caucus will take on the following critic portfolios:
Michael Coteau — Critic for Infrastructure, Energy, Labour, Economic Development, Job Creation and Trade;
Nathalie Des Rosiers — Critic for Municipal Affairs and Housing, Women's Issues, Attorney General, Environment, Conservation and Parks, Indigenous Affairs, Community Safety and Correctional Services;
John Fraser — Critic for Health and Long-Term Care, Intergovernmental Affairs, Agriculture, Food and Rural Affairs;
Michael Gravelle — Critic for Northern Development and Mines, Natural Resources and Forestry;
Mitzie Hunter — Critic for Finance, Treasury Board, Government and Consumer Services, Tourism, Culture and Sport;
Marie-France Lalonde — Critic for Francophone Affairs, Children, Community and Social Services, Seniors and Accessibility, Transportation; and
Kathleen Wynne — Critic for Education, Training, Colleges and Universities.
Other information: