Rocketry Club at Dr. Frank J. Hayden SS Provides Students a Lift-off to Career Options
​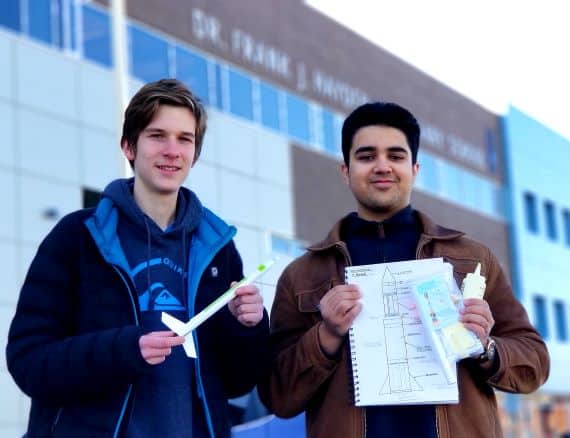 Photo Credit: Courtesy of HDSB
Sam Crane and Hamza Shah, Grade 11 students at
Dr. Frank J. Hayden Secondary School in Burlington, are leading a rocketry club they hope will help propel them into the aerospace engineering field in the future.
Crane and Shah started the club, which involves students making non-propulsion model rockets, earlier this year at Hayden. They have each had a passion for rockets and the engineering field for many years and wanted to explore these passions in a rocketry club. The club meets every Wednesday during lunch break.
"Hamza and I started the rocketry club because, for me, it has been a hobby of mine since I was in Grade 5," Crane says. "I really wanted to find other like-minded people and work together to build rockets and share ideas and interests."
"Sam and I were in a computer science class last year and we always talked about space and technology, so we discussed starting a club, something like never before at Hayden."
During their time in the rocketry club, Crane and Shah have had deep discussions about the origins of the universe and that understanding how rockets work would be one way of exploring the beginnings of the solar system, they say.
"Rockets and rocket technology are what make space missions possible," Crane says. "Model rockets are an excellent way to experiment with rocket concepts in a safe and inexpensive way."
"Rockets help us transport technology to space so we can explore further and become better as a species," says Shah.
Being a part of the rocketry club has been effective in pulling in various educational streams like science and physics and helping students better understand these disciplines.
"The whole idea of the club is to learn engineering, science, physics and math principles in a fun and rewarding way by building and experimenting with model rockets," says Crane. He explains that a rocket should be as light as possible but still be strong enough to have a successful flight and carry the necessary equipment, such as a parachute, on return.
Shah says the positive social aspect of the club makes it even more of a beneficial experience.
"In addition to the love of helping other people think curiously, we work collaboratively, obtain good leadership skills and have learned that more brains working together is better than one."
Principal Nicholas Varricchio says the rocketry club is very valuable in teaching students the curriculum.
"They allow students to see real-life connections and applications to the study of mathematics, science and integrated technology, in an authentic, fun way that is driven by student interest," he says.