Trillium Lakelands District School Board
TLDSB students are improving their social skills through interventions with a robot named Milo
​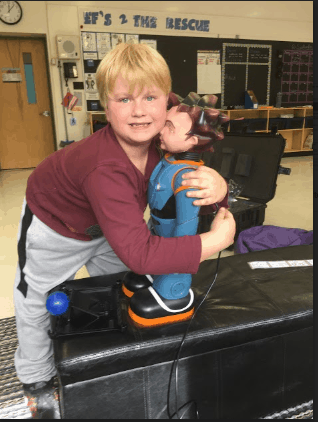 In January 2018, Trillium Lakelands District School Board (TLDSB) Itinerant Teachers for behaviour/autism spectrum disorder (ASD), with other staff support, began piloting the use of the Robots4Autism program. Milo the robot supports education and social understanding for students with autism.
Milo is designed to be interesting and approachable for students with ASD. He can walk, talk, and even model human facial expressions. Milo delivers lessons verbally, displaying symbols on his chest screen that help students better understand what he is saying.
The use of the Milo Intervention Project is being piloted in elementary schools across TLDSB to determine the impact of direct instruction of social skills for students with ASD, incorporating evidence based practices. The curriculum targets social skill intervention, teaching students emotional understanding, social communication, and self-motivation. Students work in a one-to-one setting with Milo and an educator facilitator for approximately 20 to 30 minutes, three times a week, for a 12 week period.
​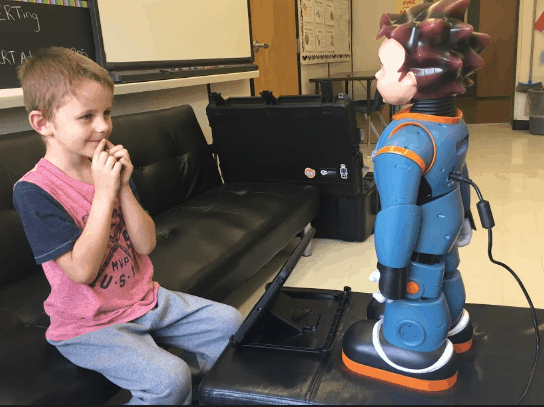 Milo travels with the educator facilitator on a rotation basis to different schools where programming support for students with ASD and social skill difficulties are identified.
The overall goal of the project is to provide necessary social skills interventions for students with ASD so that the students are successful at school and in life. The project also increases knowledge for educators, providing tools, strategies, and confidence in delivering quality Applied Behaviour Analysis (ABA) programs for students with ASD.
The Milo Intervention Project will continue in schools for the 2018-2019 school year. Data collected in the web portal, as well as feedback from both teachers and parents indicate that students are mastering skills related to socialization, using learning from Milo sessions in their classroom and at home.